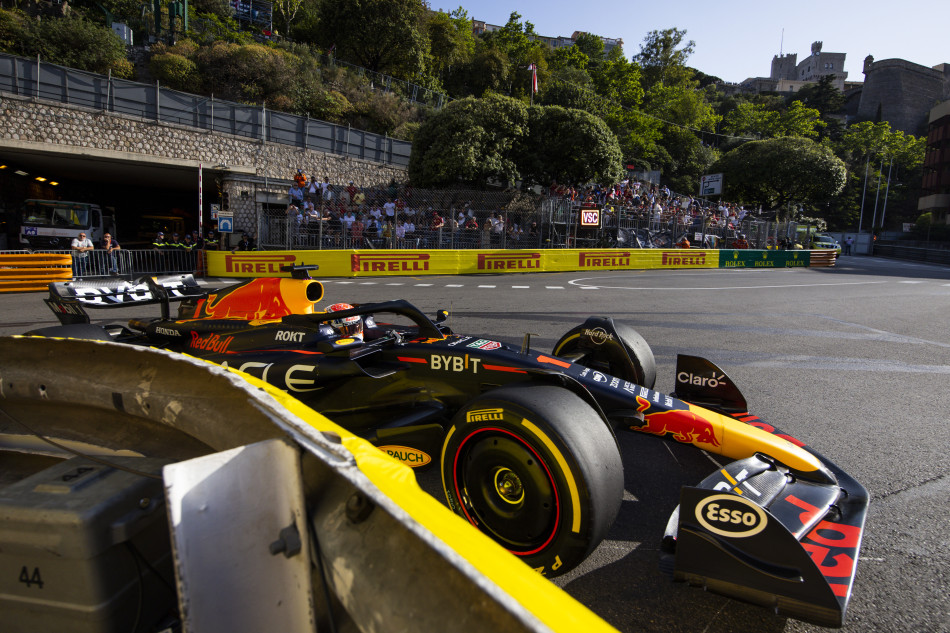 F1 Drivers' Championship leader Max Verstappen topped the timesheet in final practice for the 2023 FIA Formula 1 Monaco Grand Prix, beating Red Bull team-mate Sergio Pérez by seven hundredths of a second as Lewis Hamilton brought the session to an early end when he hit the barriers at the Mirabeau corner.
At the start of the session, Pérez took an early lead with a lap of 1m15.641. Alpine's Esteban Ocon, meanwhile, was forced back to the pit lane on his first run as he suffered a power loss that almost halted him in the tunnel. Pérez worked his way down 1:14.990 but the Mexican was soon beaten by McLaren's Lando Norris who in turn was deposed by Aston Martin's Lance Stroll. Pérez was quickly back on to, though, this time thanks to a lap of 1:14.377.
Verstappen then appeared for the first time and he eclipsed his team-mate by half a second to take top spot with his first flying lap. Aston Martin's Fernando Alonso went quicker, however, and he moved to P1 with a lap of 1:13.697.
As the first half of the session evolved Pérez once again moved to the top of the order but Verstappen found another burst of pace to rise above his team-mate getting down to 1:12.898 and then, after Pérez has responded with a 1:12.849, the Dutchman posted a lap of 1:12.776 to take control of P1.
As the final 10 minutes of the session arrived, Haas' stopped on track at Portier and with his car in the middle of the track the Virtual Safety Car was released. That prevented Alonso from putting a qualifying sim, with the result that the Spaniard ended the session in an unrepresentative 14th place.
When the session got underway following the recovery of Magnussen's car, Hamilton was quickly on trach and put in the fastest first sector. But the Mercedes driver's hopes of progress up the timesheet were ended when he lost the rear of his car on entry to the Mirabeau corner and then slid front-on into the barriers.
The red flags were shown and as the recovery of his car began to eat into available time, race control indicated that the session would not be resumed.
Verstappen therefore kept top spot ahead of Pérez with Stroll in third. Ferrari's Carlos Sainz was fourth, 0.485s off Verstappen. Norris finished fifth best ahead of Alpine's Pierre Gasly while Charles Leclerc, who reported struggles with his Ferrari's balance, ended the session in seventh place.
Hamilton's crash denied him the chance to improve on eighth place, while Ocon managed to get back on track after his earlier issues to take ninth ahead of Alfa Romeo's Valtteri Bottas.
2023 FIA Formula 1 Monaco Grand Prix – Free Practice 2
1  Max Verstappen Red Bull Racing RBPT 1:12.776  19 165.070
2  Sergio Pérez Red Bull Racing 1:12.849 0.073 24 164.905
3  Lance Stroll Aston Martin 1:12.942 0.166 20 164.695
4  Carlos Sainz Ferrari 1:13.261 0.485 20 163.978
5  Lando Norris McLaren 1:13.396 0.620 21 163.676
6  Pierre Gasly Alpine 1:13.453 0.677 24 163.549
7  Charles Leclerc Ferrari 1:13.475 0.699 19 163.500
8  Lewis Hamilton Mercedes 1:13.486 0.710 17 163.476
9  Esteban Ocon Alpine 1:13.496 0.720 18 163.453
10  Valtteri Bottas Alfa Romeo 1:13.521 0.745 20 163.398
11  George Russell Mercedes 1:13.590 0.814 18 163.245
12  Kevin Magnussen Haas 1:13.624 0.848 13 163.169
13  Nico Hülkenberg Haas 1:13.650 0.874 16 163.112
14  Fernando Alonso Aston Martin 1:13.697 0.921 18 163.007
15  Yuki Tsunoda AlphaTauri 1:13.738 0.962 21 162.917
16  Zhou Guanyu Alfa Romeo 1:13.772 0.996 20 162.842
17  Logan Sargeant Williams 1:13.851 1.075 19 162.668
18  Alexander Albon Williams 1:13.930 1.154 23 162.494
19  Oscar Piastri McLaren 1:13.998 1.222 18 162.344
20  Nyck de Vries AlphaTauri 1:14.187 1.411 24 161.931
The post F1 – Verstappen Quickest In Final Practice In Monaco As Hamilton Brings Out Red Flags appeared first on Wheelz.me-English.