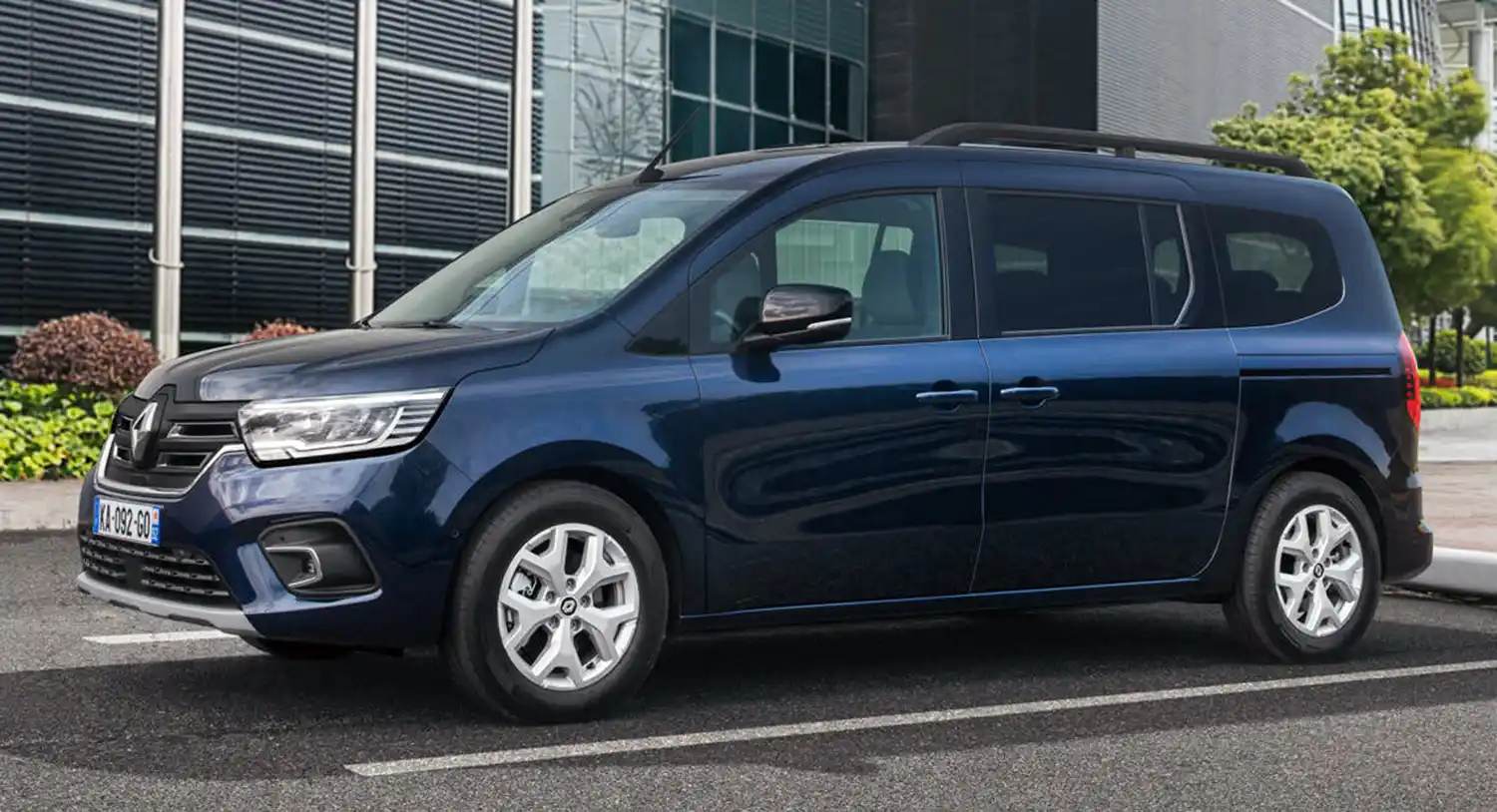 Over the 25 years since it pioneered the ludospace (leisure MPV) segment with its design in a class by itself, next-level practicality and the first ever sliding side door, Renault Kangoo has stayed in touch with its time and quintessentially innovative.
It is also a one-of-a-kind success story: Renault has sold over 4.4 million Kangoo vehicles in 50 countries around the world, and the electric version has been the bestseller in its segment since 2011. It is the best of both worlds: a car for families, with its elegant design and spaciousness, and a vehicle for professionals, thanks in particular to its boot space and robustness.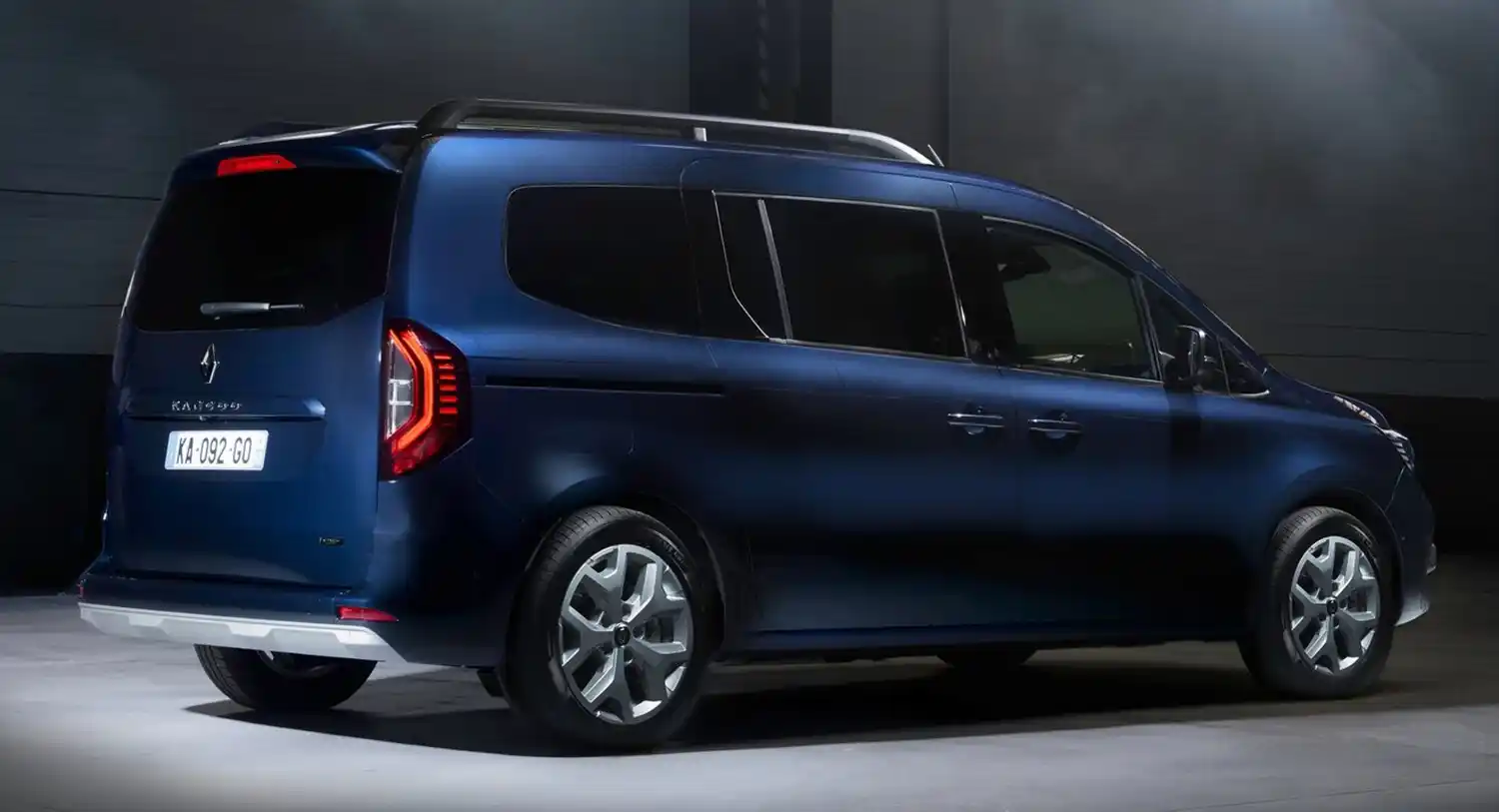 The Renault Kangoo line-up, which has moved upmarket and on-boarded innovations non-stop over the years, now includes a longer version, Grand Kangoo.
ALL OF KANGOO'S STRENGTHS, ALL OF THE INNOVATION, AND MORE SPACE
All-new Renault Grand Kangoo is as practical as the standard version and comes with all the safety equipment and comfort-upgrading amenities: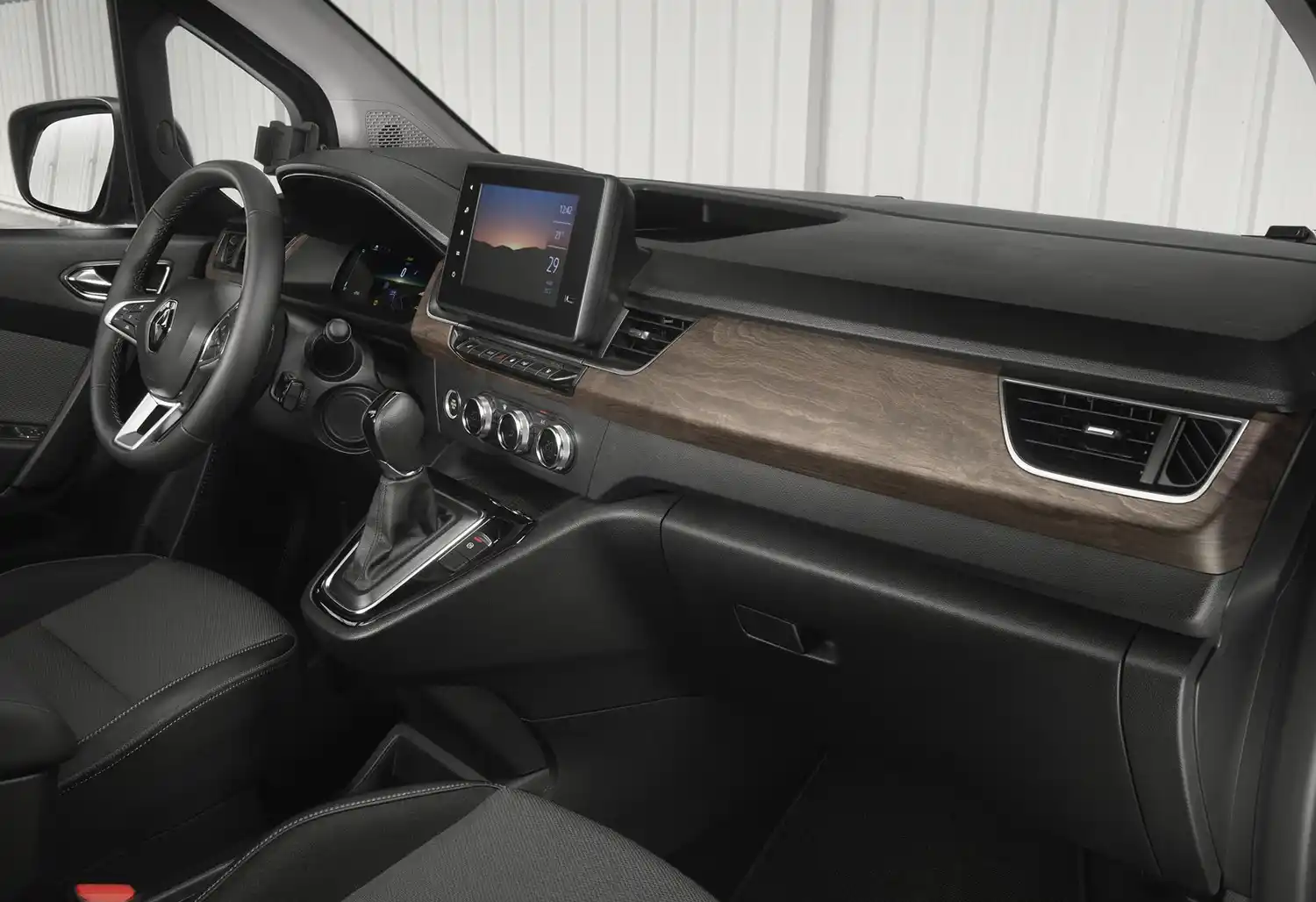 3 proper seats in the second row and 2 in the third, sitting 7 adults comfortably and making the vehicle roomier than any other in its category;
Best-in-class knee radius for passengers in row 3 (164 mm)
More than 58 litres of accessible storage space, including the Easy Life sliding drawer and under-floor storage trays in row 2
A boot of 500 litres, in 7-seater version, extendable to 3,750 litres with the rear seats removed and the front passenger seat folded down
5 'real' independent rear seats, sliding, folding, retractable and removable, allowing up to 1024 seat configurations.
3.11m load length with the front passenger seat folded down.
14 driving aids, including Level 2 autonomous driving, to enhance safety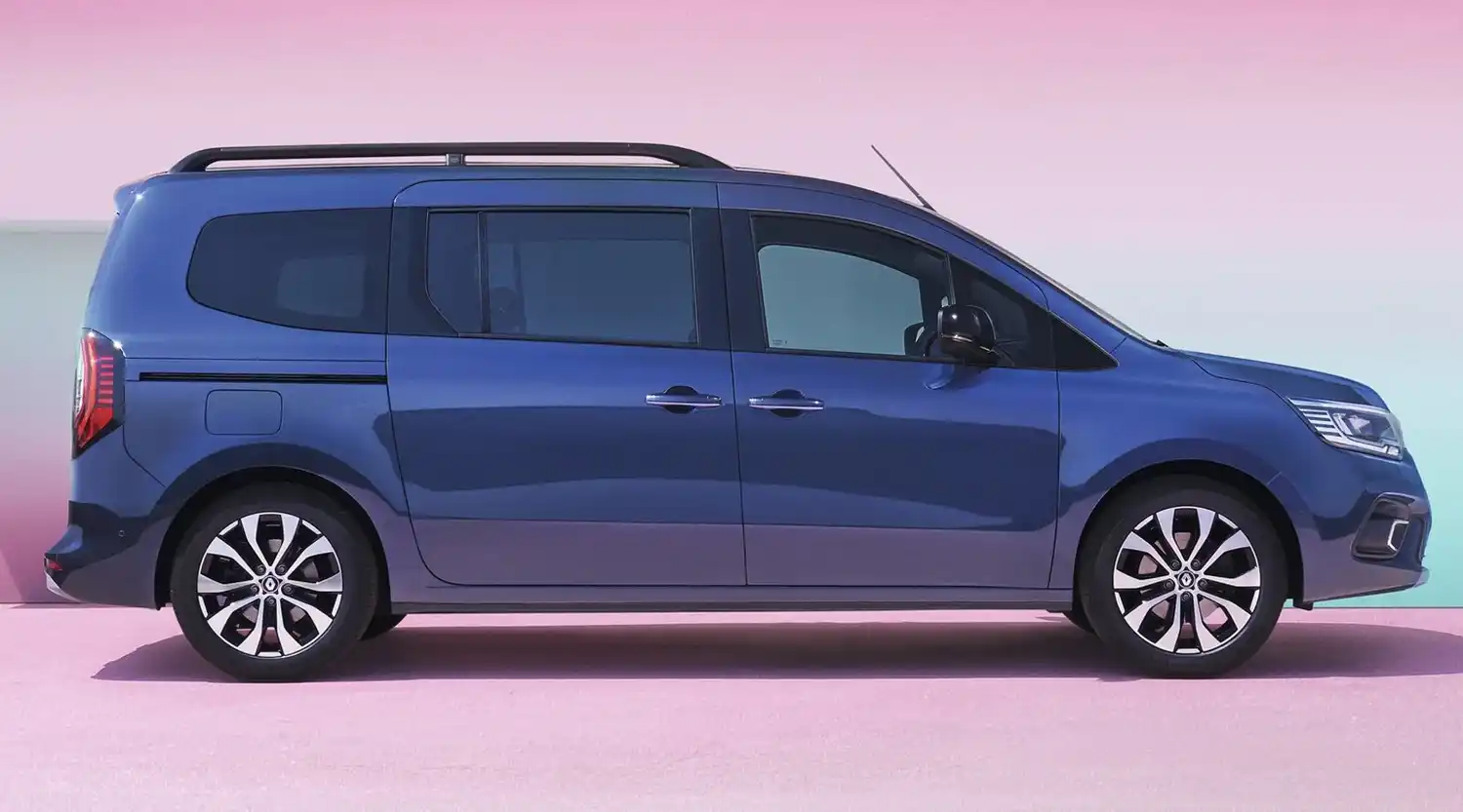 Like the Kangoo, the interior design features a dashboard finished in brushed dark wood, a comfortable cabin and improved ergonomics. The dashboard has been upgraded to include specific E-Tech data for the electric version.
Access to row 3 is made easier by the 2 wide 83 cm sliding doors (+18 cm compared with Kangoo), the low door sill and the folding seats in row 2. Practical for making it easier to get in and out of the car with other passengers (adults or teenagers), or to install a child in a car seat securely fastened with isofix mountings.
Renault Grand Kangoo can be used for any purpose. Available as standard with a glazed tailgate, it is also possible to have hinged rear doors with 2/3-1/3 glazing for easy access to the boot, particularly where is a constraint.
The large interior space is perfect for families looking for 7 large seats for very regular use and can accommodate passengers of all sizes in the greatest comfort.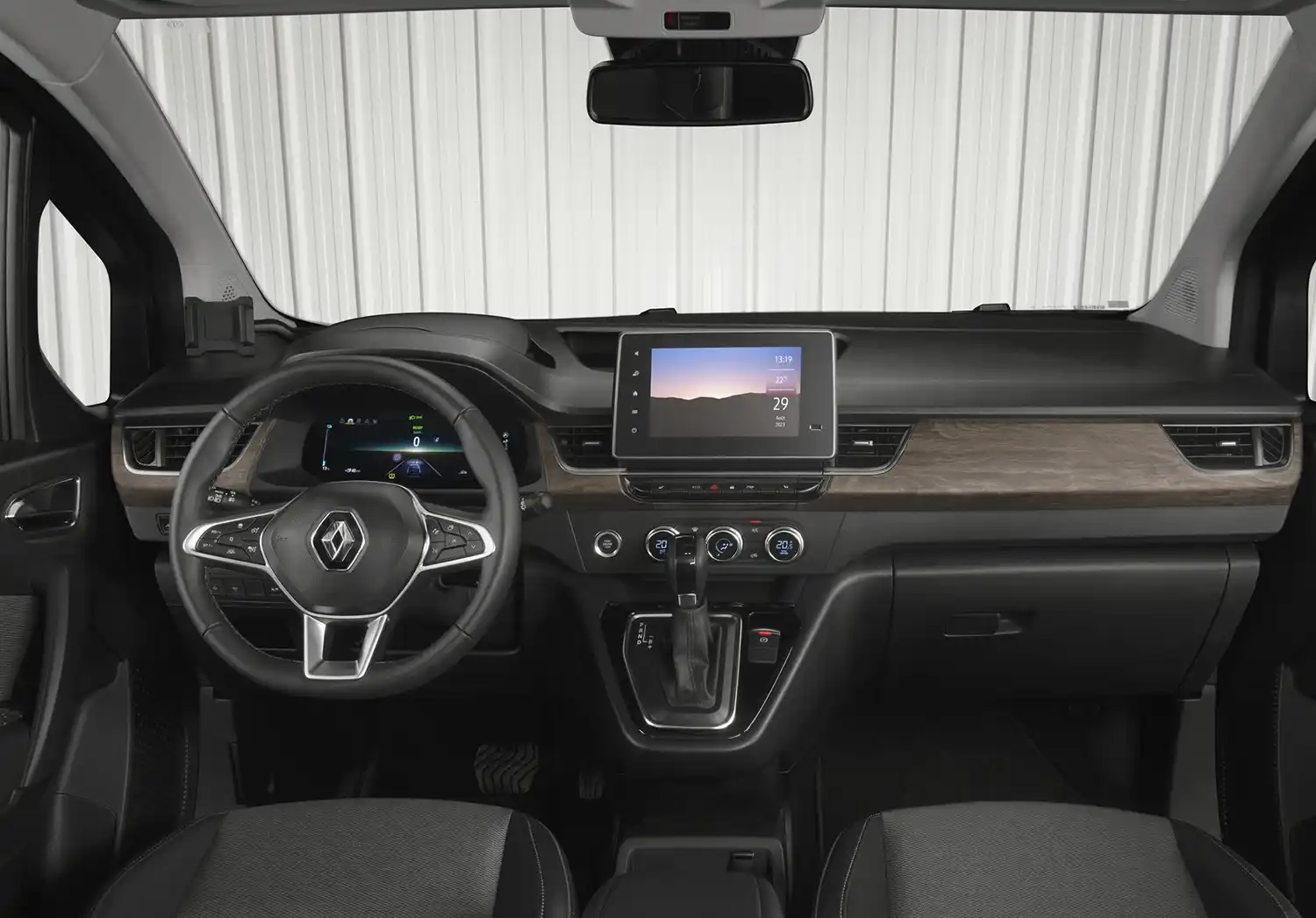 The vehicle is also perfectly suited to childcare professionals, with 5 seats with isofix, ergonomic seating for children in baby seats or booster seats, or transport on demand, with the capacity to accommodate 7 adult passengers comfortably, with ease of movement in each seat, and the ability to change the modularity (for example 2/2/2) to make it even easier for occupants to settle in.
All-new Renault Grand Kangoo E-Tech electric's new 45 kWh (fully usable) lithium-ion battery has 8 independent and easily repairable modules, and gives the motor up to 265 km of WLTP range – with is plenty for most everyday drives at the best ownership and use costs.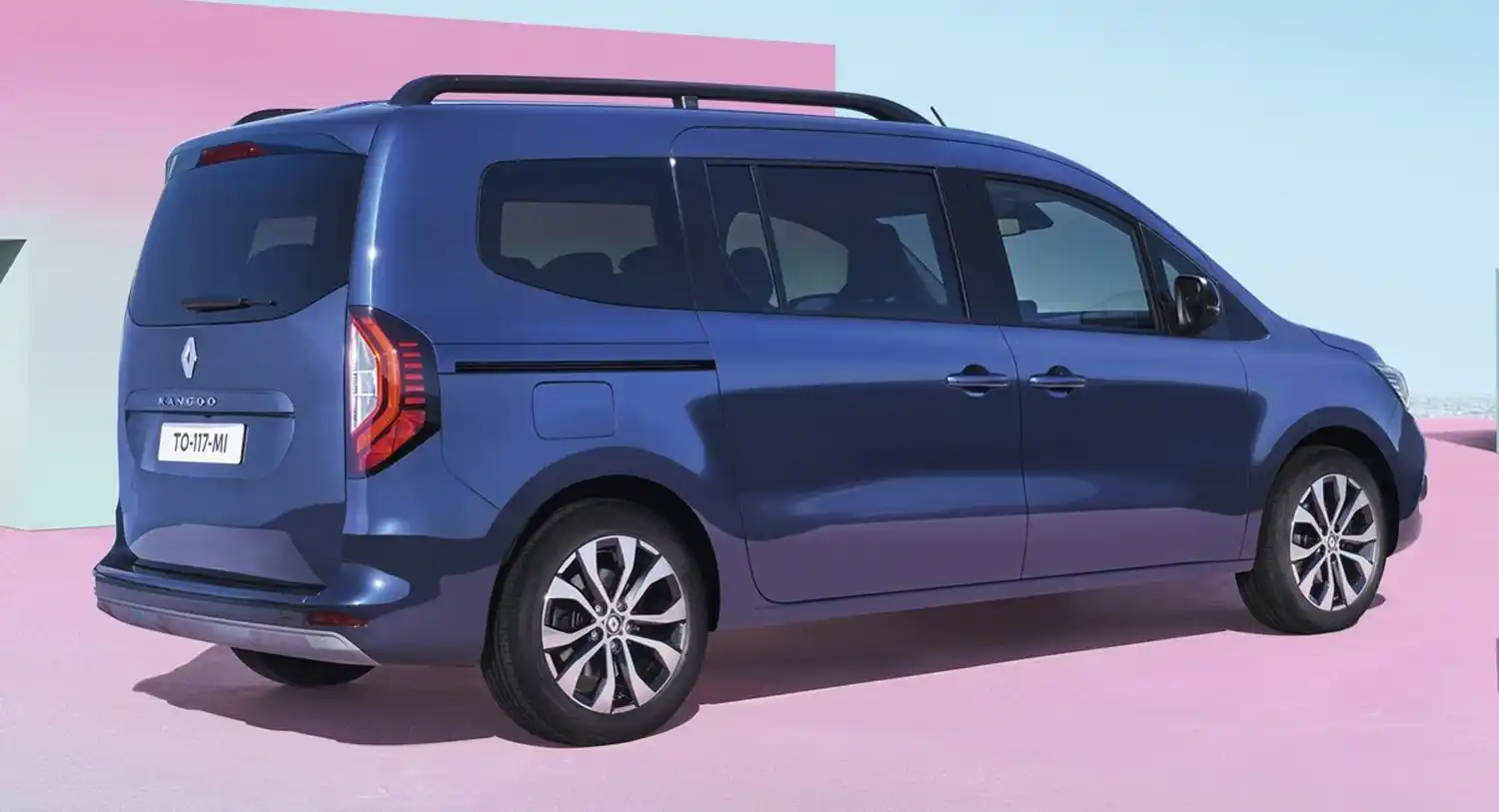 If you stop for 10 minutes at an 80kW DC charging point, you can recover 80km of range.
The batteries are guaranteed for 8 years or 160,000 km. During this period, they are replaced free of charge if their capacity falls below 70% of their State Of Health (SoH).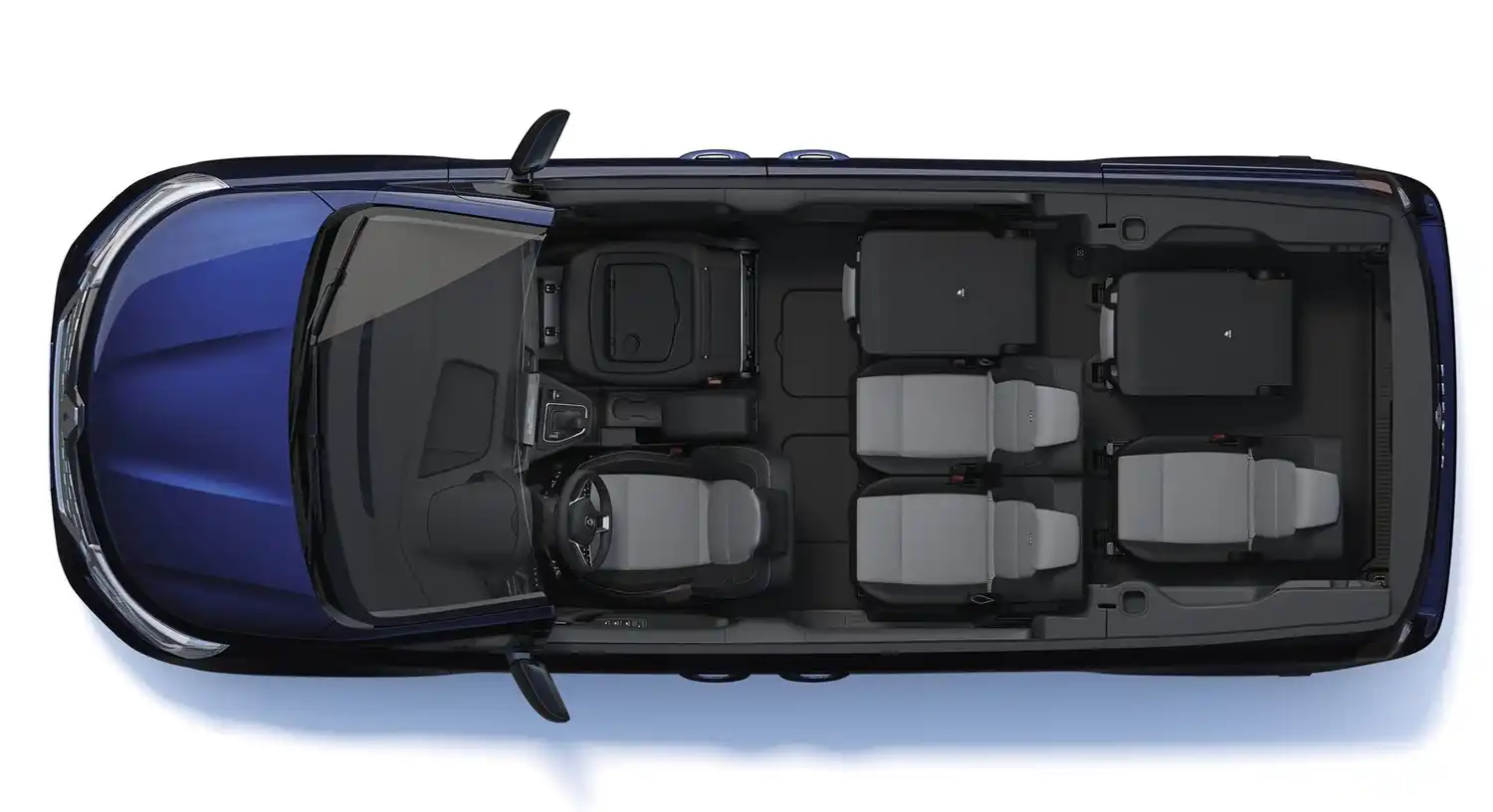 All-new Renault Grand Kangoo E-Tech Electric is powered by a 90 kW motor with 245 Nm of instantly available torque, so it drives smoothly in all situations. You can switch the driving mode to Eco, which limits power to 56 kW and caps the vehicle's speed at 110 km/h to optimise range.
You can also choose any of the three regenerative braking modes: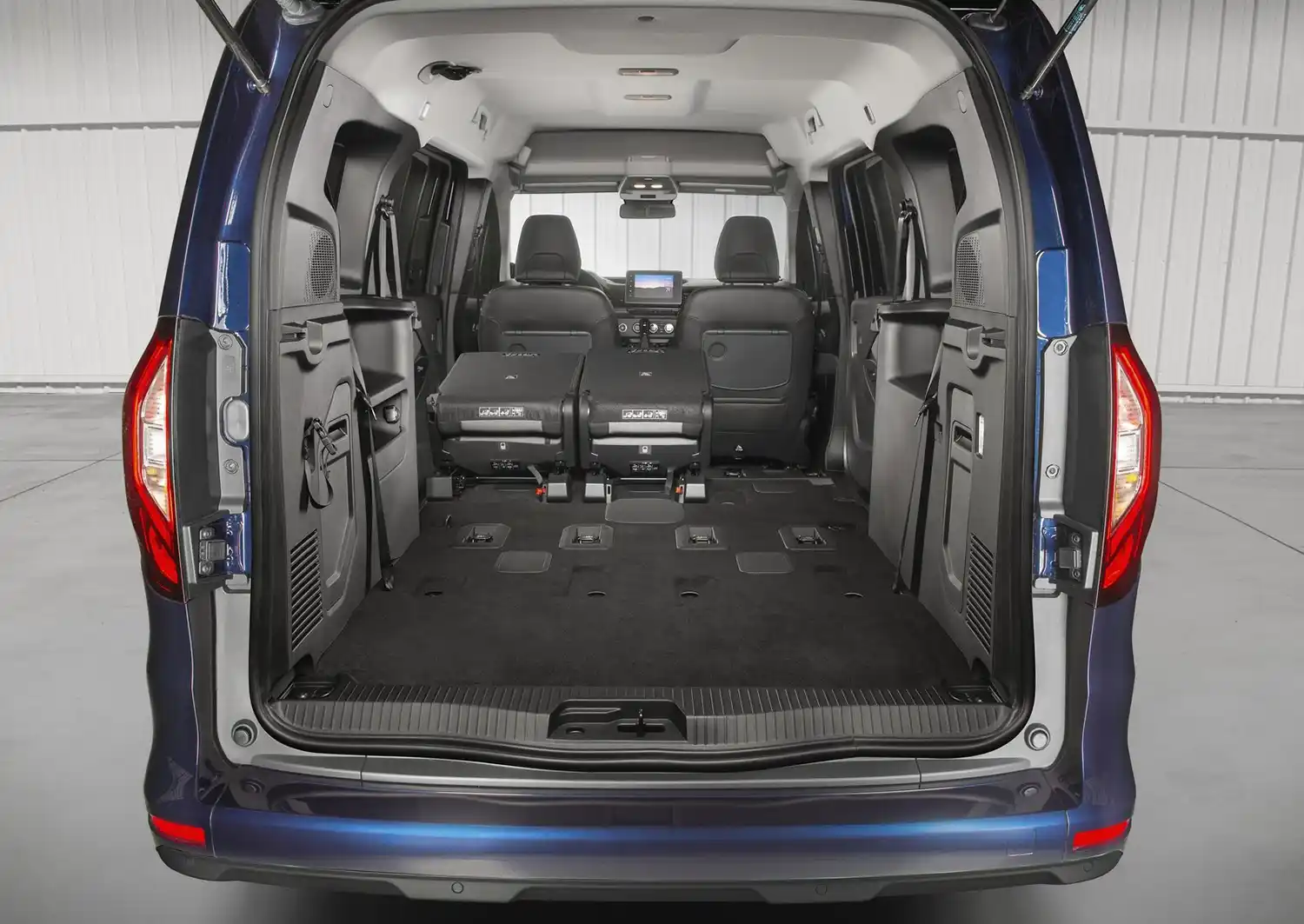 Sailing (B1) providing limited regeneration, which works best on free-flowing motorways and expressways;
Drive (B2), the default regeneration mode, for a variety of situations (the response when you lift your foot off the brake pedal is similar to that in an ICE vehicle);
Brake (B3) for maximum regeneration, which works best in traffic jams and on mountain roads.
The conventional hydraulic braking system is coupled with an ARBS (Adaptative Regenerative Brake System) that maximises energy recovery.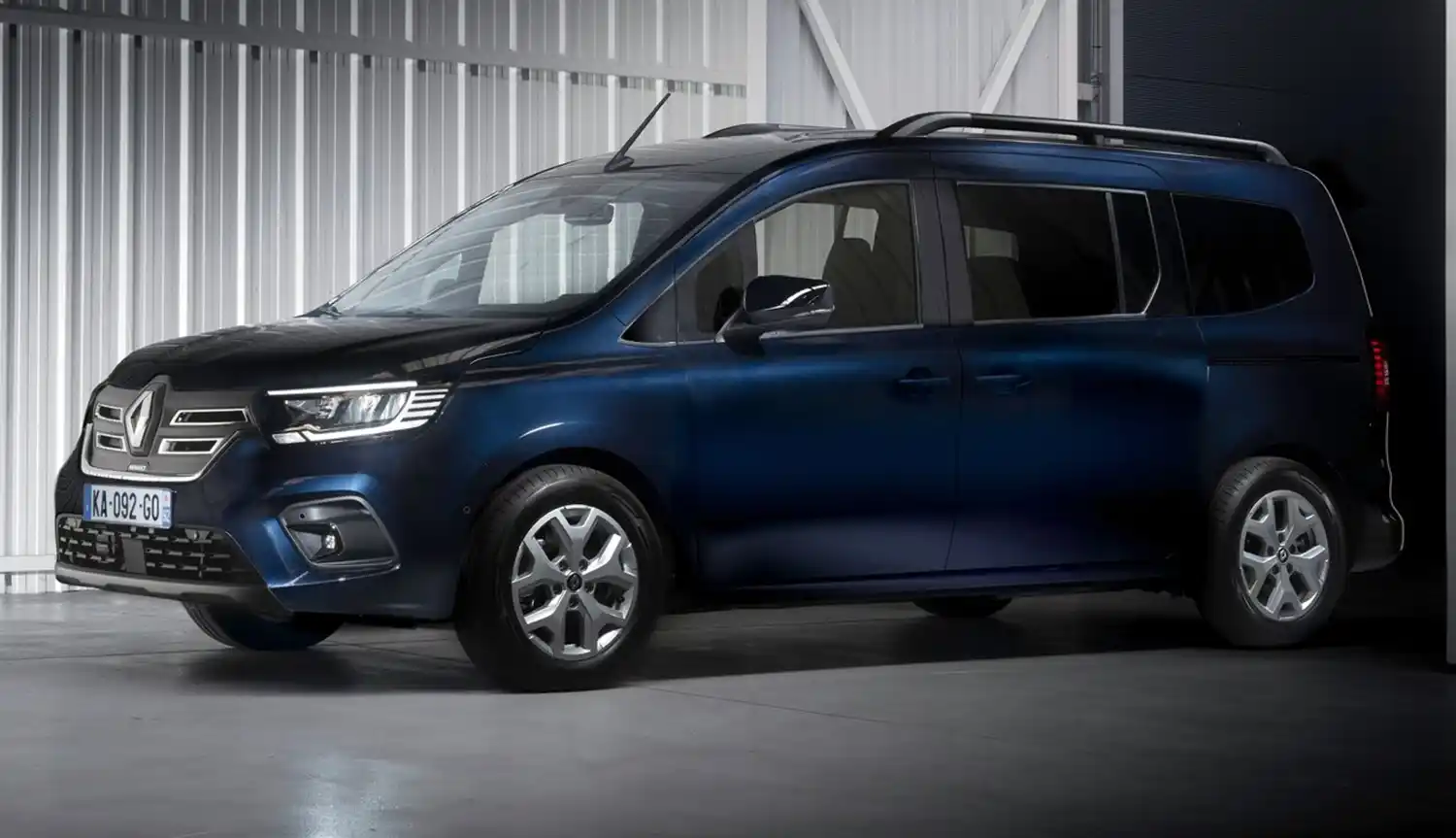 The various combinations between traction and braking modes add up to six different driving styles to optimise comfort and range depending on your driving style and traffic conditions.
All the information about the driving mode you have selected, electric power management and driver assistance systems can be displayed on an optional 10-inch, entirely digital and fully customisable colour dashboard.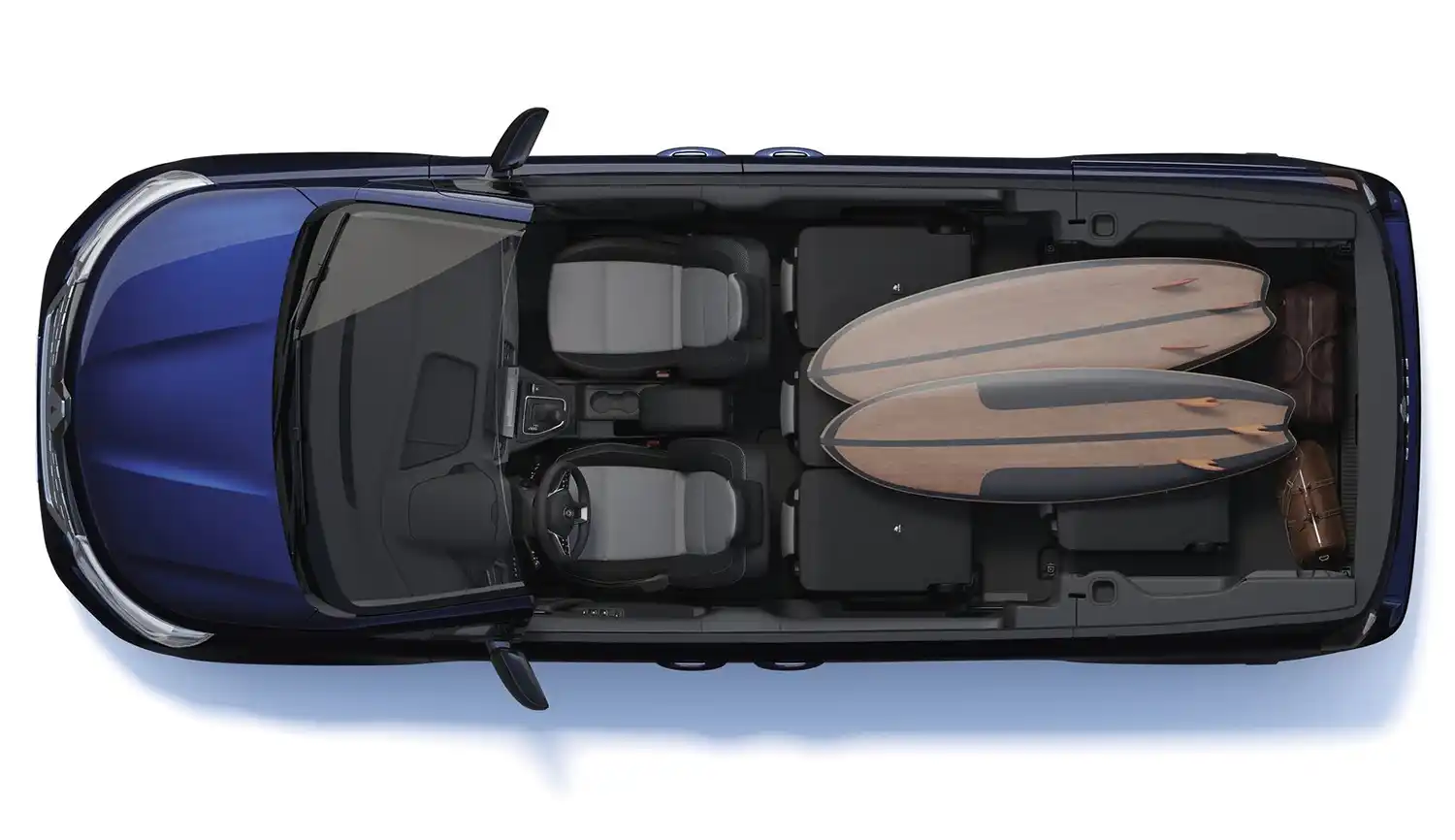 To maximise range all year round, All-new Renault Grand Kangoo E-Tech electric has a regulated dual-zone climate control system with a heat pump, which warms the interior in winter and cools it in summer using the same principle as reversible air-conditioning. The heating system captures calories outside the vehicle and transfers them into it, and the cooling system removes calories from the passenger compartment and releases them outside it.
The heat pump operates optimally when the temperature is between -15°C and +15°C. And, besides providing first-class climate control, it keeps up to 30 km of extra range by avoiding heating the passenger compartment solely via heating resistors drawing their energy from the traction battery!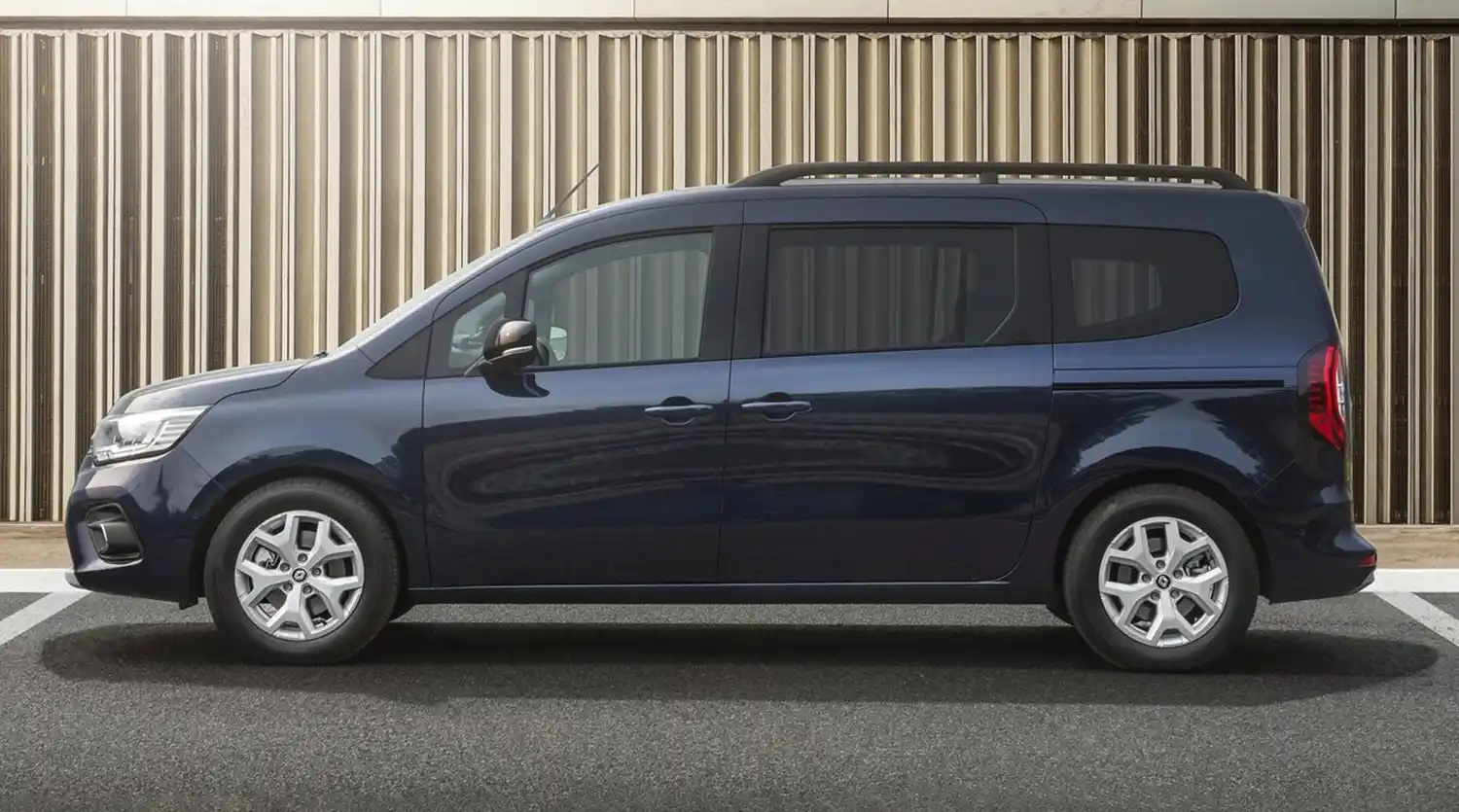 Lastly, All-new Grand Kangoo E-Tech electric comes with optional heating built into the windshield, front seats and steering wheel for added comfort in winter, only marginally affecting the battery.
All-new Renault Grand Kangoo E-Tech electric comes with two types of chargers:
22 kW AC fast charger to top up the battery from 15% to 80% in 2 hours and 40 minutes;
22 kW AC – DC 80 kW charger (standard) to add 170 km of range in 27 minutes.
This choice of chargers covers the full range of driving requirements among All-new Grand Kangoo E-Tech electric users.
Along with the 22 kW charger, the battery has a liquid cooling system and electrical resistance to keep the temperature right and thus maintain its range and shorten charging time.
Lastly, via the MyRenault smartphone app or Renault Easy Link multimedia system (standard), All-new Grand Kangoo E-Tech electric includes specific connected services such as: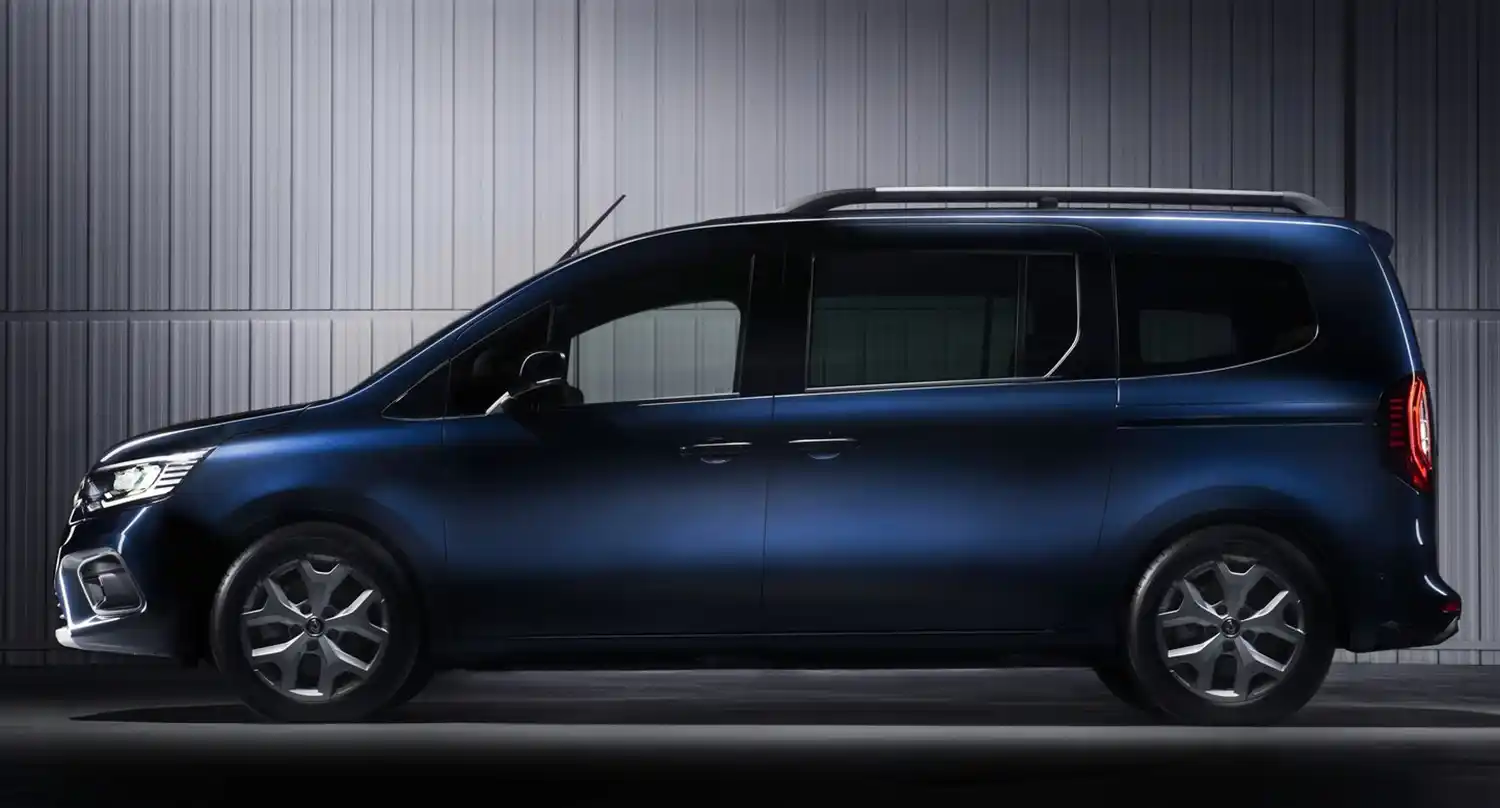 Scheduled battery charging and remote battery status monitoring;
Scheduled passenger compartment pre-heating or pre-cooling;
Help finding charging stations on your route;
Help finding destinations you can reach with your remaining battery charge.
The model will also be available as an internal combustion model with 2 engines meeting the latest emission standards (Euro 6E):
130 hp petrol BVM6 or EDC7, versatile, dynamic and fuel-efficient, even with 7 people on board
Diesel 95 hp BVM6, efficient and economical
The All-new Renault Grand Kangoo line-up will encompass three versions made to measure for its customers' precise wants and needs:
Authentic, with all the essential equipment for organisations or for customers who want to use their vehicle for personal as well as work-related travel;
Equilibre for local authorities that want to provide positive-impact, comfortable and economical passenger transport services;
Techno for families and tradespeople who want uncompromising comfort and safety standards along with distinctive design with practical features such as roof bars for easy installation of a roof box.
Renault Grand Kangoo comes with electric rear windows, reversing camera, easylink multimedia screen and connected services as standard from the Authentic level.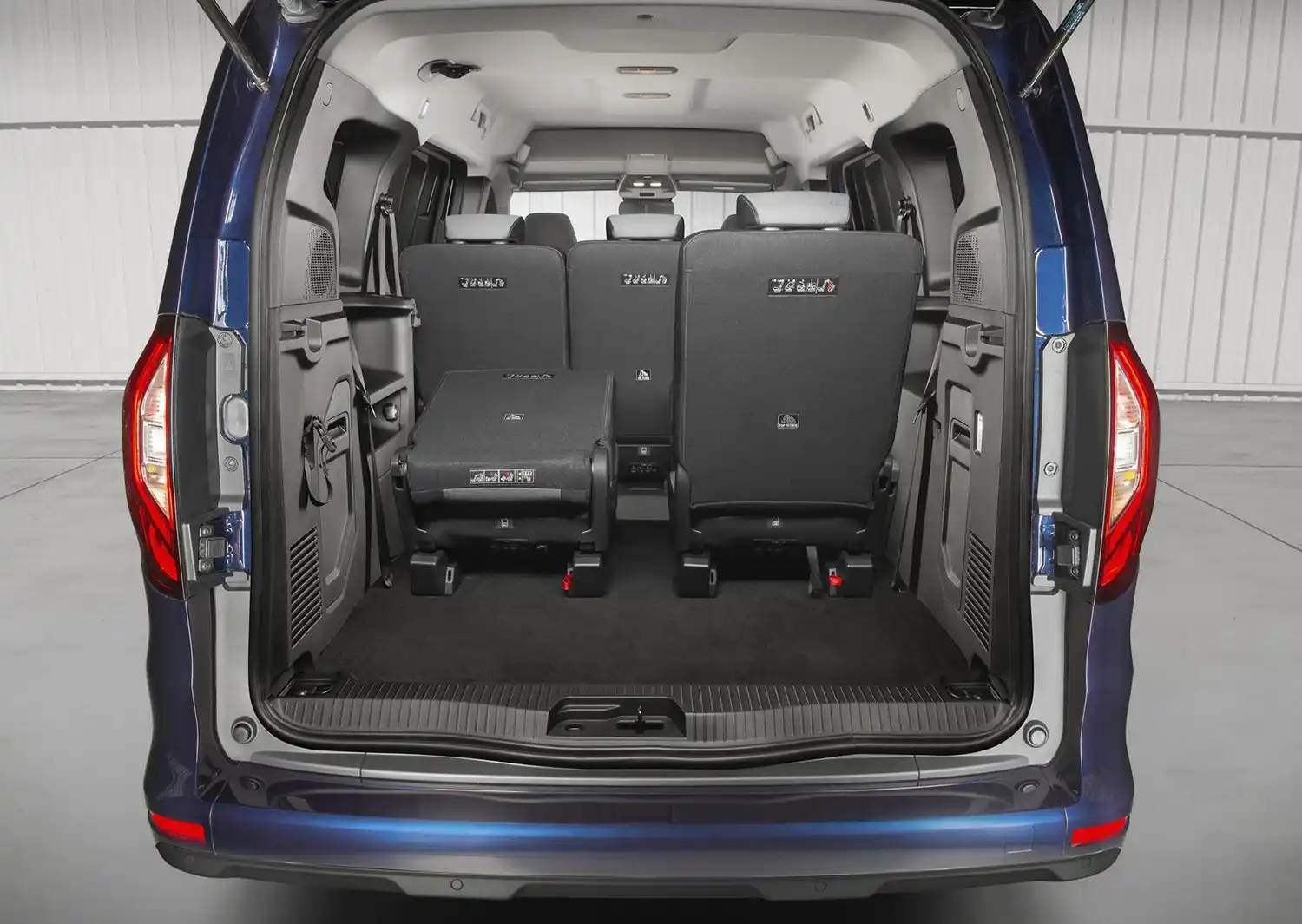 Ordering will begin towards the end of this year and deliveries will start in early 2024.
MAUBEUGE, A CENTRE OF EXCELLENCE WITHIN ELECTRICITY
Since 1997, Renault's Maubeuge factory located in Hauts-de-France (Northern France), has been making Kangoo for the entire world.
Along with the sites in Douai and Ruitz, the factory forms the new ElectriCity hub – Europe's largest and most competitive electric vehicle production hub, through which Renault plans to produce 480,000 electric vehicles per year by 2025.
As part of its efforts to industrialize the latest passenger and utility versions of the All-new Kangoo, as well as vehicles by partners Mercedes and Nissan, while guaranteeing top-quality production, Renault has invested €450 million in the plant and installed a new battery assembly workshop.
The electric motor and chargers on the All-new Kangoo E-TECH electric are all made at Renault's Cléon plant in Normandy (north-west of Paris).
To support the success of the Renault Kangoo in its various versions and the industrialisation of the future electric Renault 4, the Maubeuge plant has confirmed a first wave of recruitment of 200 permanent employees in 2023. These recruitments are part of the social agreement "for the future of Renault sites in the Hauts de France" signed by all the trade unions on 08th of June 2021, at the time of the creation of the ElectriCity industrial cluster. A total of 350 direct jobs have been announced for the site between now and 2024.
The Maubeuge factory employs 2,500 employees.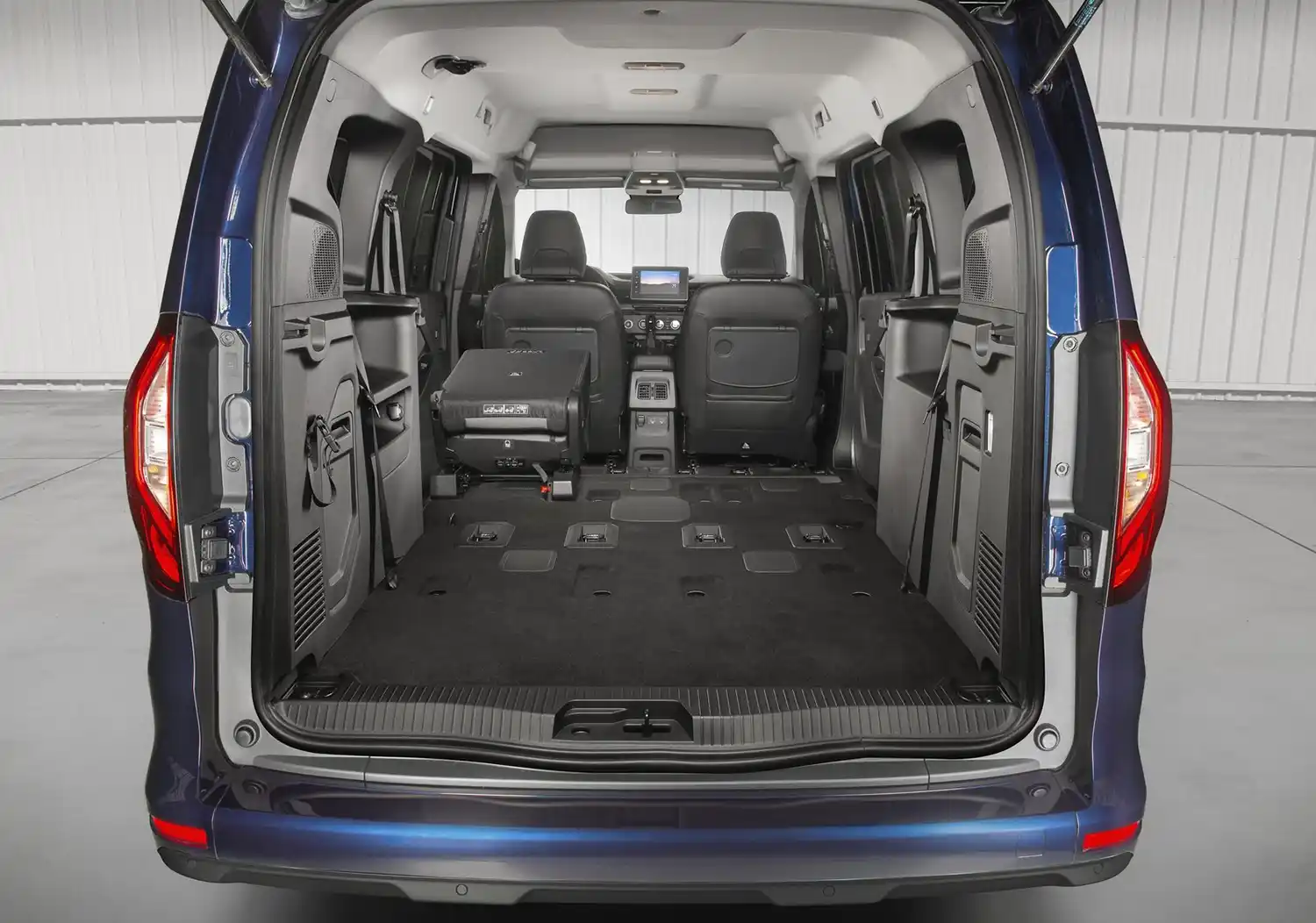 The post Renault Grand Kangoo (2024) appeared first on Wheelz.me-English.