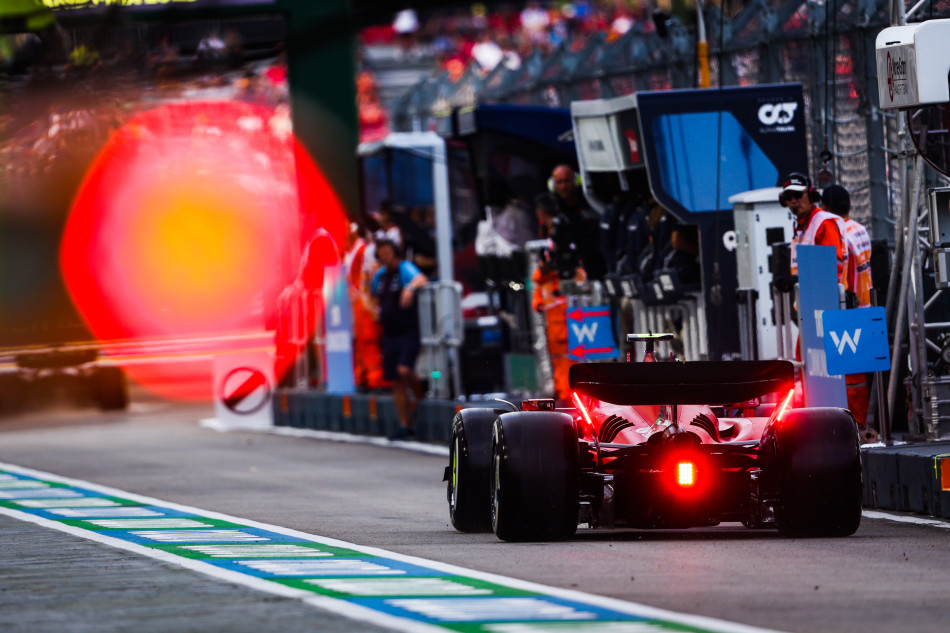 Carlos Sainz topped the timesheet in the second practice for the 2023 FIA Formula 1 Singapore Grand Prix, beating Ferrari team-mate Charles Leclerc by juts 0.018s as Max Verstappen finished in eighth place.
It was Sainz who set the session's early benchmark, with the Spanish driver posting a lap of 1:34.150 on Medium-compound Pirelli tyres, but as the clicked towards the 10-minute mark that time was beaten by Aston Martin's Fernando Alonso who took top spot with a lap of 1:33.964. Sainz was soon back on top, however, with a lap of 1:33.303, before making another improvement at the quarter mark to 1:33.213, with Alonso back in P2.
With almost a third of the session gone, Yuki Tsunoda, in a heavily revised AlphaTauri, jumped to second place with a lap of 1:33.483, but further back there was little joy for world champion Max Verstappen with the Dutchman languishing in ninth place and grumbling over the radio about the poor balance of his car before pitting for adjustments.
Leclerc was much more comfortable on the streets of Marina Bay and the Monegasque driver reclaimed top spot just before  the 20-minute mark with a medium-tyre lap of 1:32.974, 0.239s quicker than Sainz in second.
A lull followed as teams prepped for quali sims, with Sainz one of the first on track on Soft tyres, followed soon after by Leclerc. And in their intra-team duel, it was Sainz who came out on top with a 1:32.120s, just 0.018s ahead of his team-mate as Alonso slotted into third ahead of McLaren's Lando Norris, Alfa Romeo's Valtteri Bottas and AlphaTauri's Liam Lawson.
Hamilton then emerged and took P3 from Alonso, while George Russell sandwiched the Aston Martin driver by taking fifth place.
After a long spell in the Red Bull garage for set-up changes, Verstappen eventually emerged at the halfway mark but he only managed the sixth quickest time, a sizeable 0.732s behind Sainz. Alonso then improved to third, although the Aston Martin driver was still 0.358s behind Sainz.
Like his team-mate Red Bull's Sergio Pérez was also struggling with his RB19 and after the Mexican's first attempt on Softs put him eighth and more than 0.8s off the pace he told his engineer that it "was just not coming" and that the rear end of his car was stepping out "massively".
With 20 minutes left Russell moved to third and that brought to an end any major improvements on soft tyres, with the bulk of the field moving to harder compounds for the remainder of the session.
Elsewhere, there was trouble for Alex Albon. Having set his fastest lap on the hard tyre, a power unit issue after five laps ensured Williams driver could not make a quali run.
2023 FIA Formula 1 Singapore Grand Prix – Free Practice 2
1 Carlos Sainz Ferrari 1:32.120 26 193.052
2 Charles Leclerc Ferrari 1:32.138 0.018 27 193.014
3 George Russell Mercedes 1:32.355 0.235 25 192.561
4 Fernando Alonso Aston Martin 1:32.478 0.358 25 192.305
5 Lewis Hamilton Mercedes 1:32.585 0.465 23 192.082
6 Lando Norris McLaren 1:32.711 0.591 23 191.821
7 Sergio Pérez Red Bull 1:32.812 0.692 23 191.613
8 Max Verstappen Red Bull 1:32.852 0.732 23 191.530
9 Kevin Magnussen Haas 1:33.017 0.897 25 191.190
10 Valtteri Bottas Alfa Romeo 1:33.105 0.985 24 191.010
11 Nico Hülkenberg Haas/Ferrari 1:33.139 1.019 22 190.940
12 Liam Lawson AlphaTauri 1:33.285 1.165 27 190.641
13 Esteban Ocon Alpine 1:33.361 1.241 25 190.486
14 Lance Stroll Aston Martin 1:33.390 1.270 25 190.427
15 Oscar Piastri McLaren 1:33.461 1.341 23 190.282
16 Yuki Tsunoda AlphaTauri 1:33.477 1.357 27 190.250
17 Zhou Guanyu Alfa Romeo 1:33.575 1.455 25 190.050
18 Pierre Gasly Alpine 1:33.824 1.704 24 189.546
19 Logan Sargeant Williams 1:34.327 2.207 28 188.535
20 Alexander Albon Williams 1:35.558 3.438 5 186.106
The post F1 – Sainz Takes Over At Top Ahead Of Leclerc As Verstappen Finishes Eighth appeared first on Wheelz.me-English.