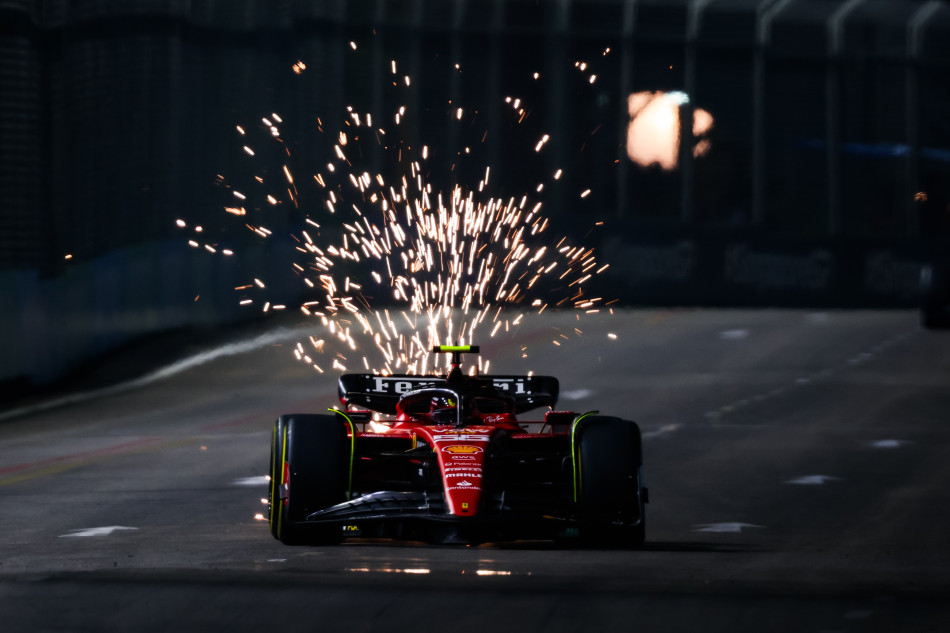 Ferrari's Carlos Sainz went quickest in the final practice session ahead of qualifying for the 2023 FIA Formula 1 Singapore Grand Prix, beating Mercedes George Russell by seven hundredths of a second. Red Bull Racing struggles continued, however, with championship leader Max Verstappen finishing fourth amid complaints about both the upshifts and downshifts on his RB19.
At the start of the session, Sainz was quickly to the fore on Medium tyres, topping the timesheet with a 1m35.015s, before Verstappen bettered that, getting down to 1:34.402.
Twelve minutes into the session, Sainz reclaimed top sport with a lap of 1:33.778 as Russell slotted into P2 with a Soft tyre time of 1:34.094. Sergio Pérez, then edged his Red Bull team-mate out of fifth place with a Medium tyre time of 1:34.317. However, the Dutchman was on a fresh set of Mediums and he jumped back to the top of the order with a lap of 1:33.660, 0.118 ahead of Sainz.
Shortly after the quarter-hour mark, Lando Norris, in the heavily updated McLaren MCL60, jumped to third place, just 0.274 off Sainz, but he was soon shuffled back by Ferrari's Charles Leclerc who jumped ahead of his Ferrari team-mate to take P2 with a lap of 1:33.663. Russell then emerged on a second set of Soft tyres and with just under 20 minutes gone the Mercedes driver took P1 with a lap of 1:33.340.
However, Sainz was finding more time on the improving track and he soon ousted Russell from top spot with a lap of 1:33.105. Russell wasn't done, though, and with 25 minutes gone, the English driver, still on Soft tyres, retook P1 with a lap of 1:32.883, three tenths of a second ahead of Sainz, with Verstappen now in third place, but almost eight tenths off top spot. Then, at the halfway mark, Lewis Hamilton improved again to make it a Mercedes one-two, 0.222 behind his stablemate.
After a brief lull during which the bulk of the field prepared for Soft tyre runs, Russell emerged again on the red-walled tyres and after three purple sectors he reset the benchmark at 1:32.364. Alpine's Esteban Ocon, on the same compound, then jumped from the lower half of the table to take P2 on 1:32.979, before Norris outpaced both lower the target time to 1:32.303. Hamilton then joined the fray and he took third place ahead of McLaren's Oscar Piastri who shunted Ocon out to fifth.
Versatppen was next to set a soft tyre time but with his first attempt the Red Bull driver could do no better than fourth behind Hamilton, on 1:32.636, 0.333 adrift of Norris.
With a little over 10 minutes remaining Ferrari's drivers took to the track and Sainz immediately vaulted to the top of the order with a purple middle sector and a time of 1:32.065. Leclerc couldn't match that and he slotted into fourth place, 0.316 off his team-mate.
Verstappen, meanwhile, was continuing to struggle and after branding his upshifts "unacceptable", he returned to the pits for changes to be made to his car. The Dutchman went out for a final run in the closing stages and improved to fourth ahead of Leclerc with a 1:32.378s, but on his slow down lap his feedback was that if Singapore were a drifting competition he might have a chance of winning.
Sainz therefore took top spot ahead of Russell and Norris, with Verstappen fourth ahead of Leclerc, Hamilton and Piastri. Pérez was eighth in the second Red Bull, while Haas' Nico Hülkenberg and AlphaTauri's Yuki Tsunoda rounded out the top 10.
2023 FIA Formula 1 Singapore Grand Prix – Free Practice 3 
1 Carlos Sainz Ferrari 1:32.065 23 193.167
2 George Russell Mercedes 1:32.134 0.069 20 193.023
3 Lando Norris McLaren 1:32.303 0.238 17 192.669
4 Max Verstappen Red Bull 1:32.378 0.313 21 192.513
5 Charles Leclerc Ferrari 1:32.381 0.316 25 192.507
6 Lewis Hamilton Mercedes 1:32.535 0.470 18 192.186
7 Oscar Piastri McLaren 1:32.730 0.665 18 191.782
8 Sergio Pérez Red Bull 1:32.784 0.719 20 191.670
9 Nico Hülkenberg Haas 1:32.896 0.831 18 191.439
10 Yuki Tsunoda AlphaTauri 1:32.945 0.880 18 191.338
11 Kevin Magnussen Haas 1:32.970 0.905 16 191.287
12 Esteban Ocon Alpine 1:32.979 0.914 19 191.268
13 Fernando Alonso Aston Martin 1:33.051 0.986 19 191.120
14 Lance Stroll Aston Martin 1:33.126 1.061 23 190.967
15 Pierre Gasly Alpine 1:33.351 1.286 19 190.506
16 Liam Lawson AlphaTauri 1:33.357 1.292 19 190.494
17 Alexander Albon Williams 1:33.370 1.305 15 190.468
18 Valtteri Bottas Alfa Romeo 1:33.540 1.475 26 190.121
19 Zhou Guanyu Alfa Romeo 1:33.637 1.572 24 189.924
20 Logan Sargeant Williams 1:33.708 1.643 16 189.781
The post F1 – Sainz Sets The Pace In Final Practice In Singapore As Red Bull's Struggles Continue appeared first on Wheelz.me-English.