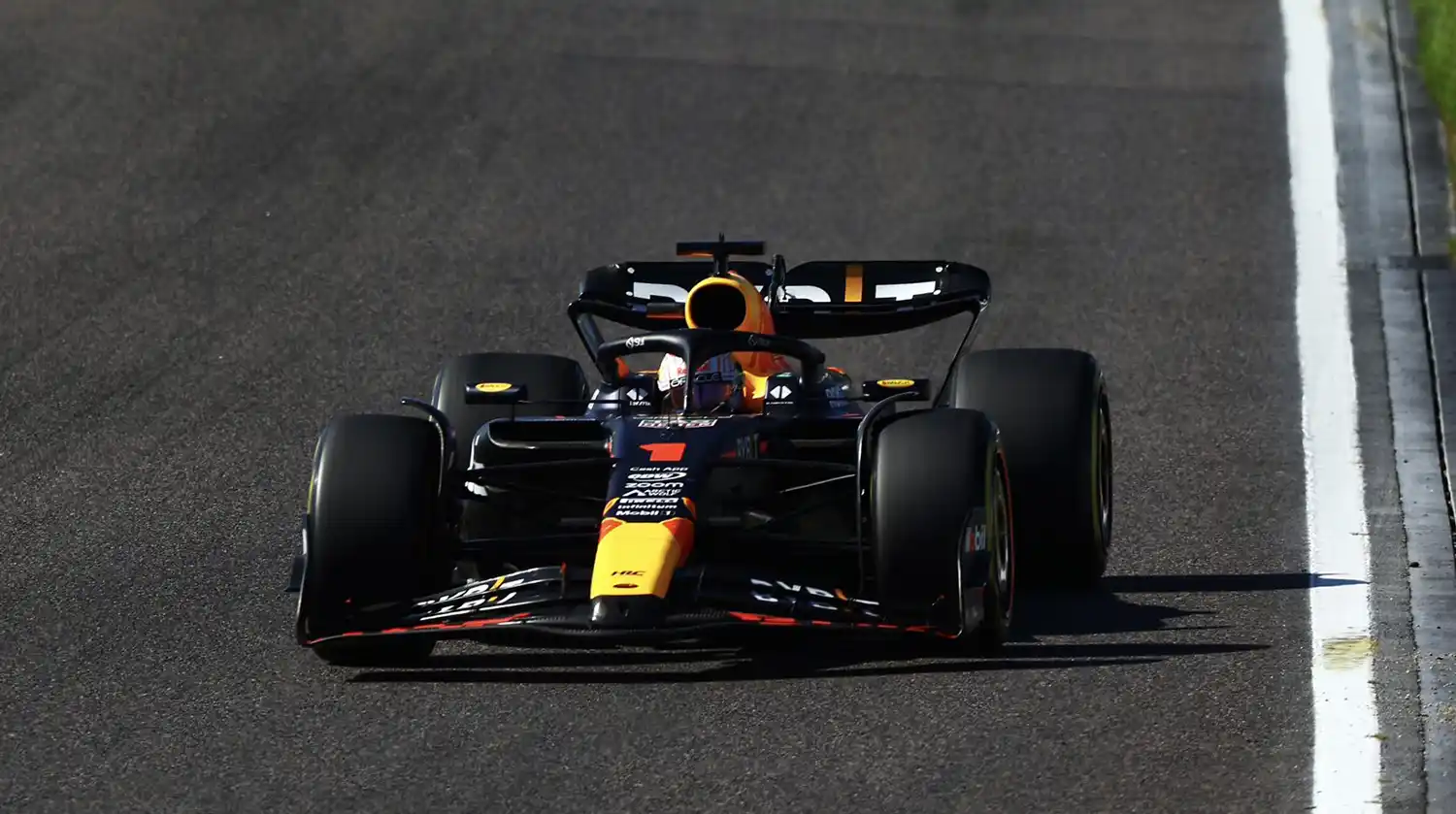 Max Verstappen powered to a dominant Japanese Grand Prix win at Suzuka to seal a sixth Formula 1 Constructors' Championship title win for Red Bull Racing and to move one step closer to his third Drivers' title in a row. McLaren's Lando Norris finished second ahead of team-mate Oscar Piastri, while Sergio Pérez in the other Red Bull was forced to retire from the race after two early collisions.
"Unbelievable guys, you deserve that," Verstappen told his team over the radio after crossing the line. "You can all be very proud, here at the track and back at the factory. You have built a rocket ship of car, well done!"
Verstappen's win puts him on 400 points and just a handful of points away from a third title. The Dutchman is now 177 ahead of the non-scoring Pérez with a maximum 180 points still on the table from the remaining six rounds. The Dutchman is now almost certain to take the crown at the next race in Qatar.
Starting from pole in Suzuka, Verstappen seized the lead of the line. And though his progress was briefly slowed by an early Safety Car, once he had calmly navigated the re-start, the championship leader simply drove away from the rest of the field to eventually beat Norris to the flag by 19.3 seconds.
When the lights went out for the start, Verstappen got away well and despite pressure from Piastri to his right, the Dutchman placed his car well to block the McLaren. That left Piastri vulnerable, and spotting the opportunity, Norris powered through to steal P2 from his team-mate.
Behind the top three, Pérez got a poor start from fifth place on the grid and on the approach to Turn 1 he was squeezed by the Ferrari pair of Charles Leclerc and Carlos Sainz. Forced left, Pérez made contact with Mercedes' Lewis Hamilton and dropped back to seventh as Sainz slipped through to P5 and Aston Martin's Fernando Alonso roared up the inside from 10th to sixth.
Further back again, there was another incident, with Alfa Romeo's Zhou Guanyu moving into the path of Williams' Alex Albon. The Williams driver ran over the rear left of the Alfa Romeo and while both managed to keep going, substantial amounts of debris were left on track and the Safety Car was deployed.
Behind the Safety Car Pérez  pitted at the end of lap 2 for a new nose cone. But the Mexican driver's race unravelled further there as he rejoined incorrectly behind the Safety Car and was handed a five-second time penalty. It would only get worse for the Red Bull driver.
When the Safety Car left the track Verstappen controlled the re-start well to hold his lead ahead of Norris and Piastri, with Leclerc in fourth ahead of Sainz and Alonso.
Pérez was soon on the march and over the following half dozen laps he carved his way from 18th place to 12th, behind the Haas of Kevin Magnussen. However, on lap 13, the Red Bull driver was sent plummeting down the order again when an attempt to pass the Dane at the hairpin went wrong. "I've got front wing damage again," he lamented after locking up and sliding into the side of the Haas.
Pérez returned to the pit lane again, serving his penalty and taking on a new nose cone. But almost as soon as he was back on track he reported that his car "did not feel right" and he returned to the pit lane and the garage. He was also handed a second penalty for causing the collision with Magnussen.
At the front, the leaders began to pit. Piastri sparked the stops, boxing under the VSC deployed for the Pérez and attempting to undercut the drivers ahead. Verstappen then made his first stop, taking on another set of Medium tyres and Leclerc, Norris and Sainz all followed soon after. Verstappen soon returned to the lead, ahead of Mercedes' George Russell, who had yet to stop, and Piastri, who had managed to undercut Norris thanks to his stop under the VSC.
At the front Verstappen was striding away from the chasing pack and at half distance the Red Bull driver was 12 seconds ahead of Piastri. McLaren were on the radio to the Australian, however, telling him that Norris was running faster and on lap 27 Piastri backed off the let his team-mate through to P2.
Leclerc made his second stop, from fifth, at the end of lap 35, quickly followed by sixth-placed Hamilton, and both driver took on Hard tyres. Third-placed Piastri followed suit at the end of the next lap with Norris coming in a lap later and then at the end of lap 37 Max made is final stop of the racing, fitting a set of Hard tyres for the last 16 laps of the race.
Pérez, seeking to shake off his penalty in case it carried over to Qatar went back out on lap 40 before steering back to the garage a lap later.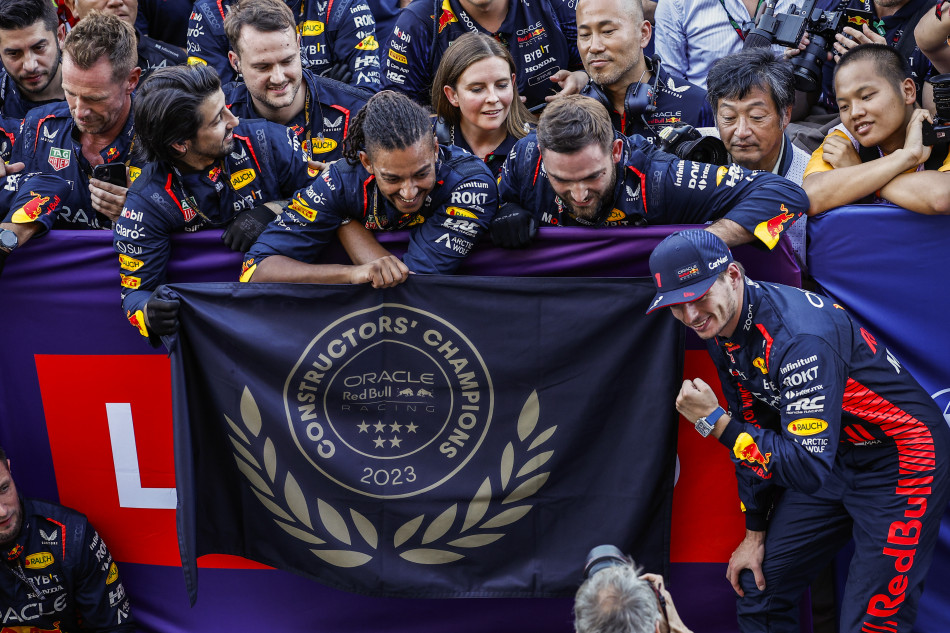 Ahead, Verstappen led Norris by more than 15 seconds, with Piastri in third and Leclerc fourth. And over the final 15 dozen laps the gap only grew and when he eventually crossed the line to take his 13th win of the season and to secure the 2023 Constructors' World Championship title for the Team he was over 19 seconds clear of Norris, with Piastri a further 17 seconds back in third.
Fourth place went to Leclerc with Hamilton in fifth ahead of Sainz. Russell, who made a single pit stop during the race, came home in seventh place, with Alonso in eighth ahead of the Alpine of Esteban Ocon, and the final point on offer went to Pierre Gasly in the second Alpine.
2013 FIA Formula 1 Japanese Grand Prix – Race 
1 Max Verstappen Red Bull Racing 53 1:30'58.421
2 Lando Norris McLaren 53 1:31'17.808 19.387
3 Oscar Piastri McLaren 53 1:31'34.915 36.494
4 Charles Leclerc Ferrari 53 1:31'42.419 43.998
5 Lewis Hamilton Mercedes 53 1:31'47.797 49.376
6 Carlos Sainz Ferrari 53 1:31'48.642 50.221
7 George Russell Mercedes 53 1:31'56.080 57.659
8 Fernando Alonso Aston Martin 53 1:32'13.146 1'14.725
9 Esteban Ocon Alpine 53 1:32'18.099 1'19.678
10 Pierre Gasly Alpine 53 1:32'21.576 1'23.155
11 Liam Lawson AlphaTauri 52 1:31'01.510 1 lap /3.089
12 Yuki Tsunoda AlphaTauri 52 1:31'02.395 1 lap /3.974
13 Zhou Guanyu Alfa Romeo 52 1:31'04.761 1 lap /6.340
14 Nico Hülkenberg Haas 52 1:31'08.019 1 lap /9.598
15 Kevin Magnussen Haas 52 1:31'27.991 1 lap /29.570
Alexander Albon Williams 26 48'31.077 Retirement
Logan Sargeant Williams 22 42'29.573 Accident damage
Lance Stroll Aston Martin 20 37'53.303 Wing
Sergio Pérez Red Bull Racing 15 1:13'07.893 Retirement
Valtteri Bottas Alfa Romeo 7 17'03.533 Accident damage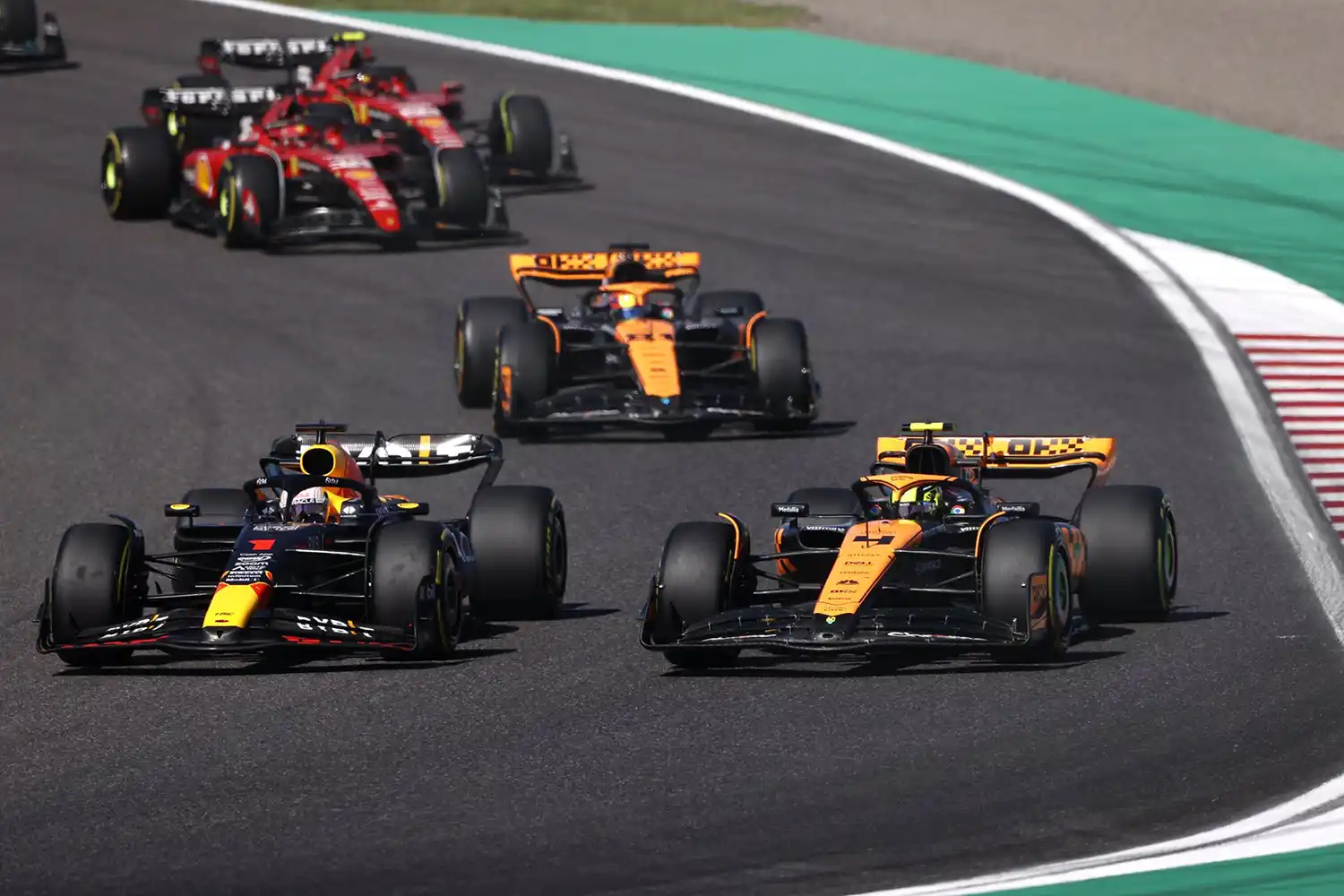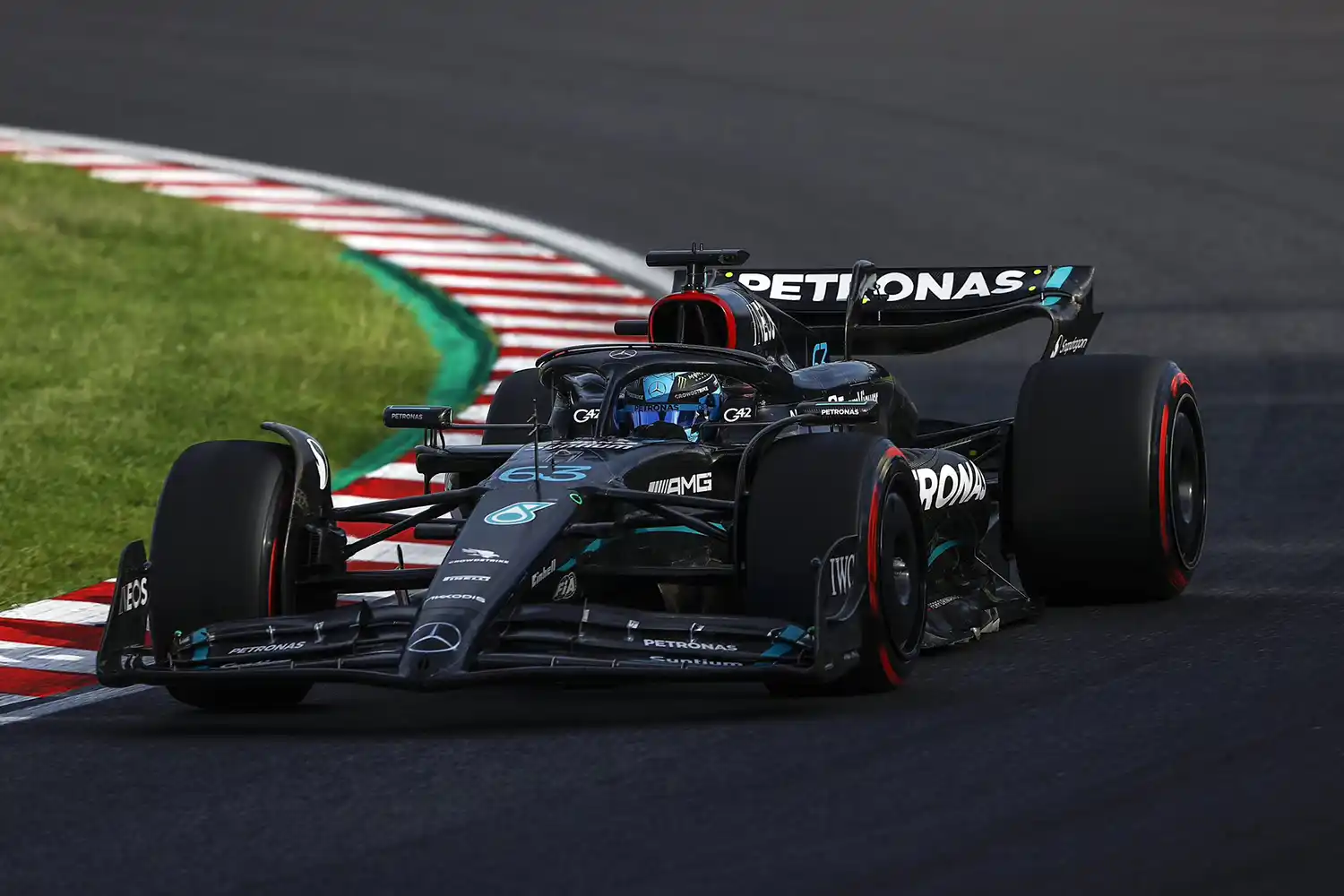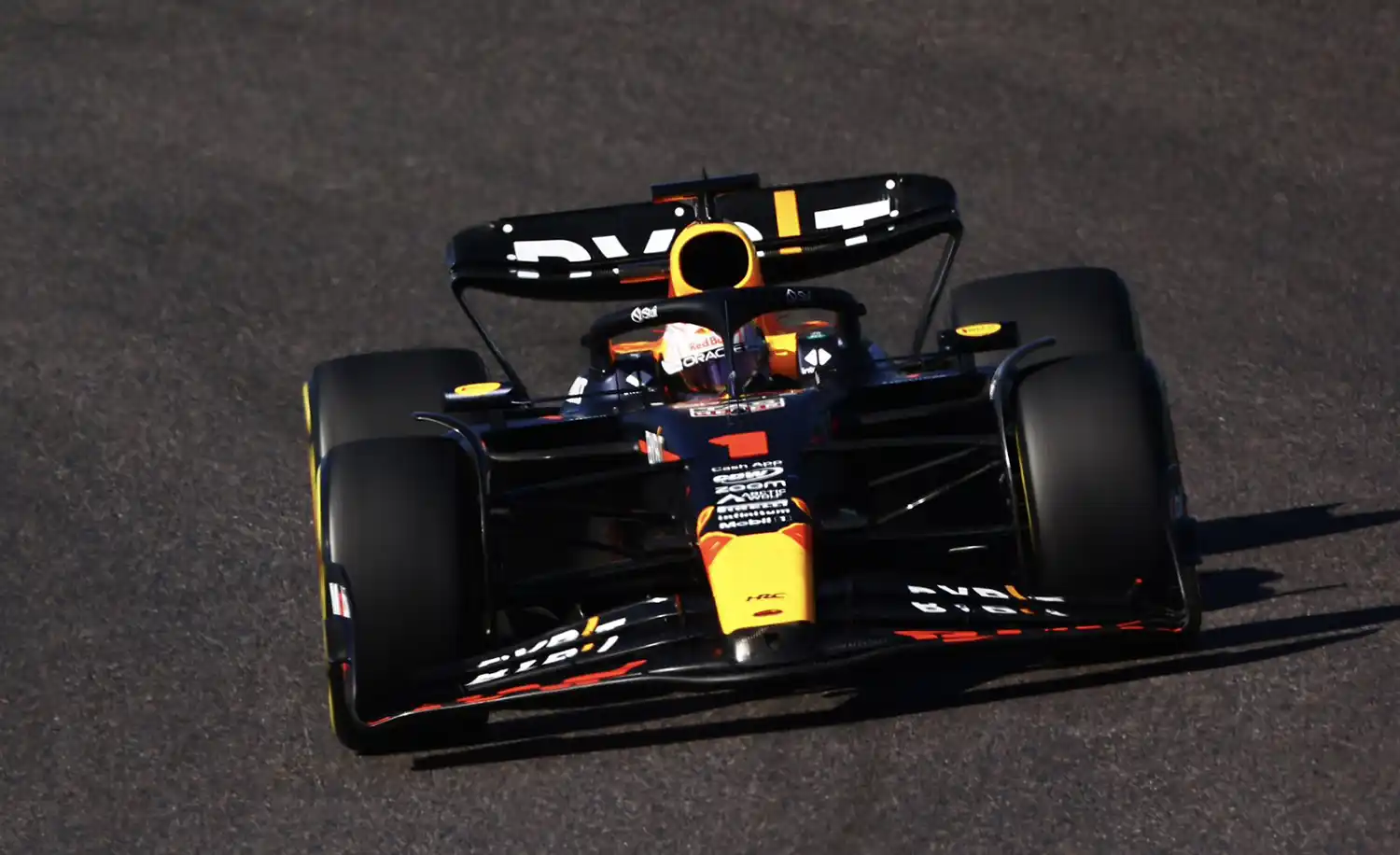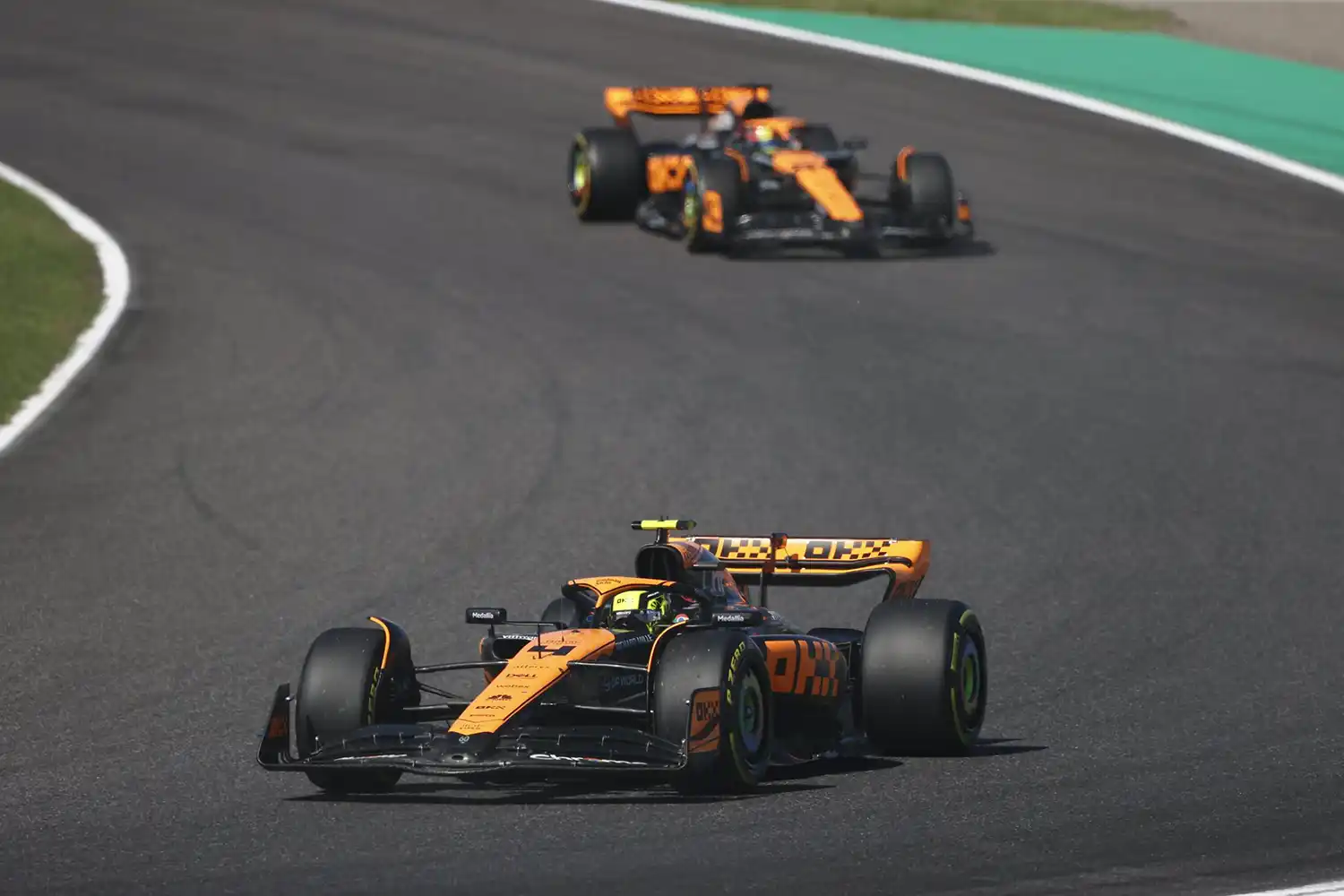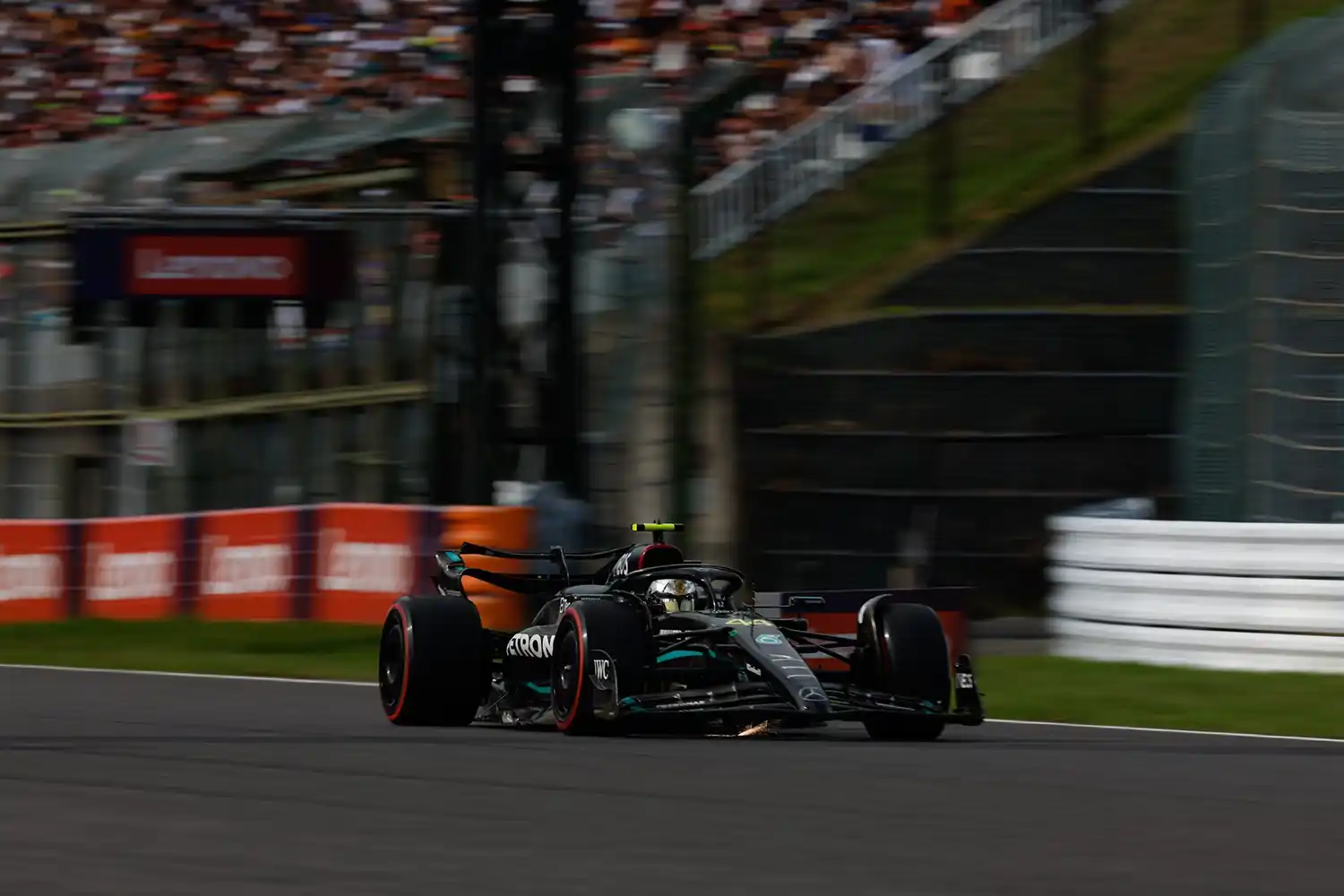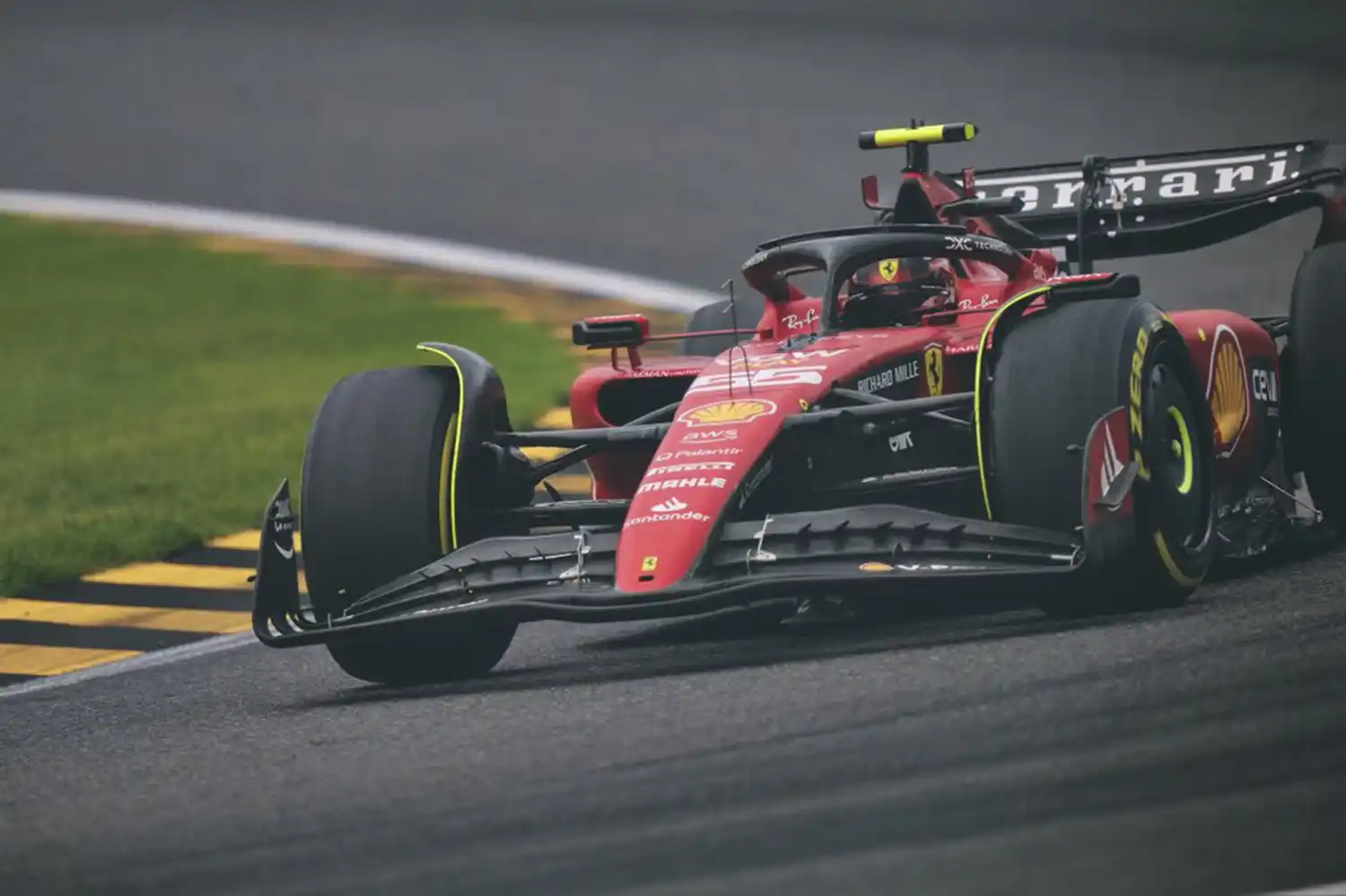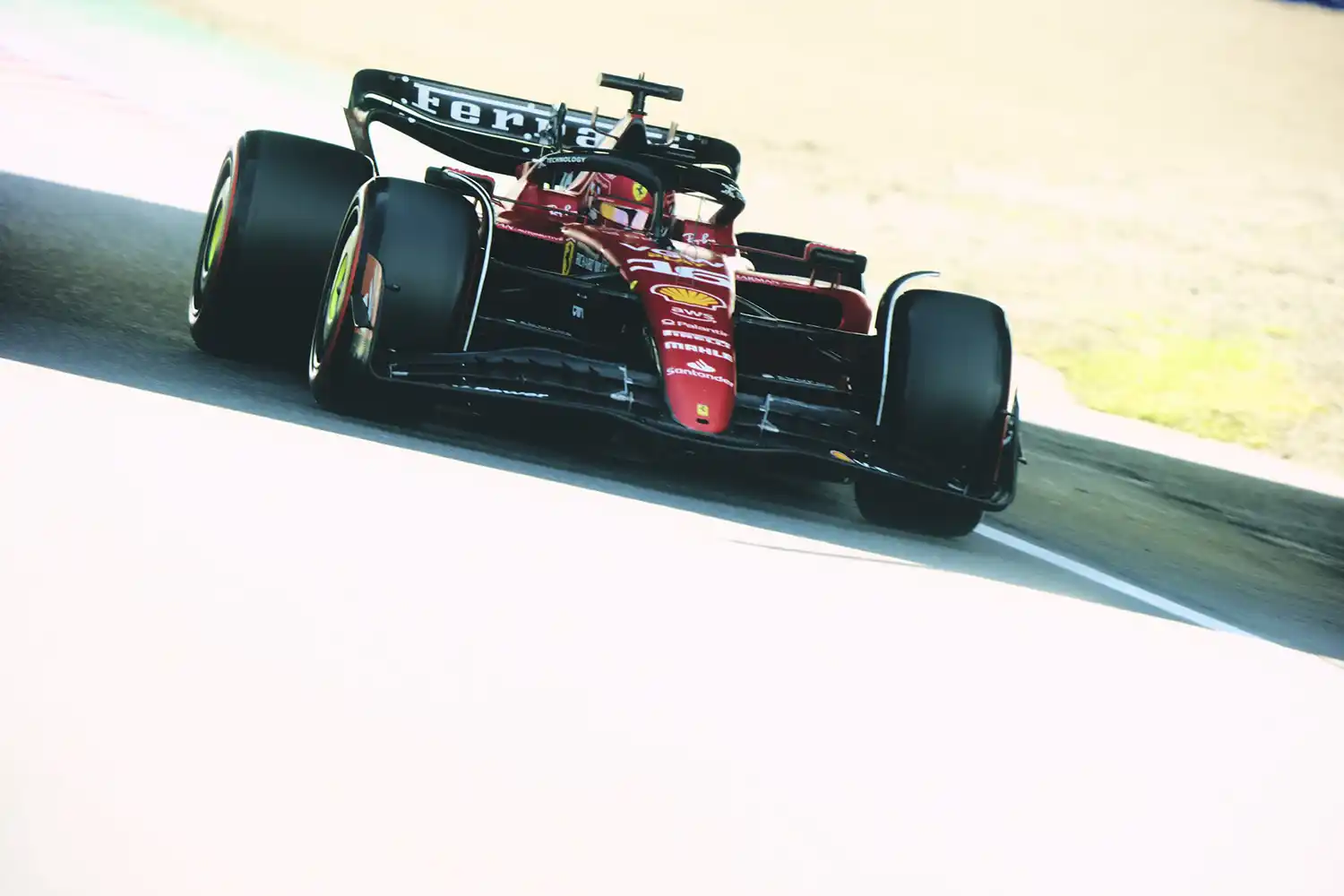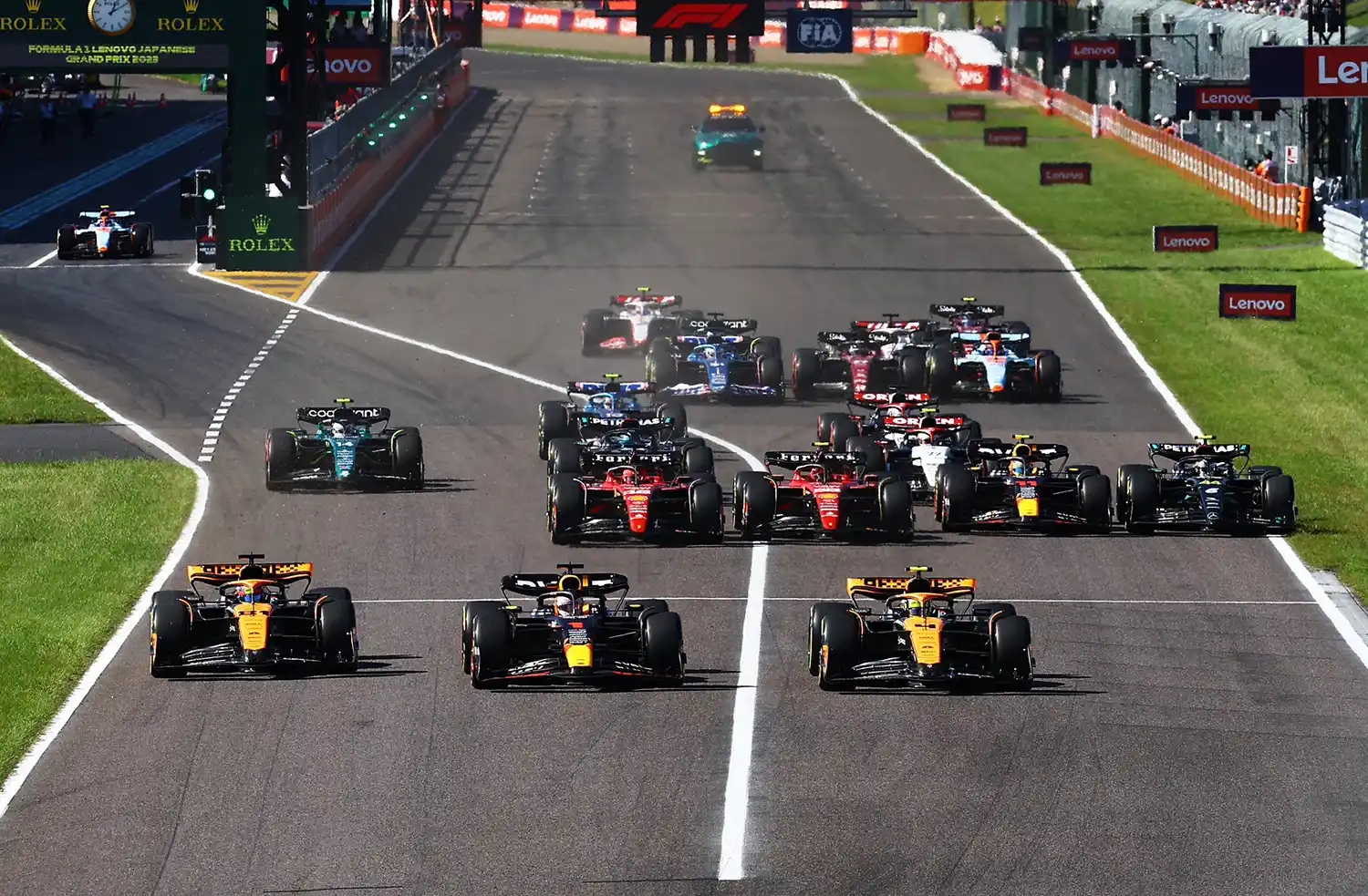 The post F1 – Max Verstappen Wins In Japan To Seal Sixth Constructors' Title For Red Bull Racing appeared first on Wheelz.me-English.