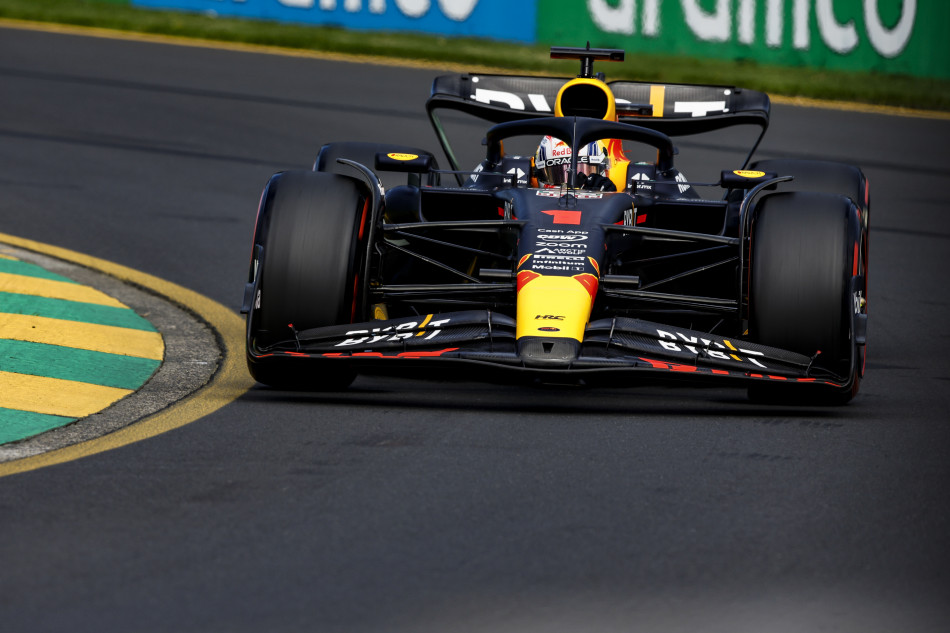 Red Bull's Max Verstappen narrowly beat Aston Martin's Fernando Alonso to the top of the timesheet in the final practice session ahead of qualifying for the 2023 FIA Formula 1 Australian Grand Prix. Esteban Ocon took third place for a quick looking Alpine as team-mate Pierre Gasly finished fifth behind Mercedes' George Russell.
The final hour of practice got underway in cool temperatures and under overcast skies and it was Ferrari's Carlos Sainz who made the initial headway, with the Spaniard going top thanks to a time of 1:19.061 set on soft tyres.
Verstappen, on mediums, then moved to the top of the timesheet with a lap of 1:18.741, 0.320s faster than the soft-shod Ferrari.
Charles Leclerc in the other Ferrari was getting more from his soft tyres, however, and the Monegasque driver bypassed Verstappen's marker to take P1 with a lap of 1:18.731 before improving to 1:18.691.
There was no sign at this point, however, of the second Red Bull of Sergio Pérez. The Mexican spent the opening minutes of the session in the Red Bull garage with his crew working on his car and when he eventually emerged 20 minutes into the hour a torrid session began with a Turn 3 lock-up that damaged his opening set of soft tyres.
"I just don't feel the car… it's all OK with the car? I cannot brake into Turn 1, very loose rear, then a lot of front lock into Turn 3. Very inconsistent in the corner," said the Mexican as he continued to struggle with his RB19.
He didn't get a chance to improve, however, as the red flags were briefly shown at the halfway point when a piece of the sidepod of Nyck de Vries' AlphaTauri dislodged and had to be recovered from the track near Turn 9.
After a three-minute halt the session got underway again and a flurry of quick laps followed as drivers emerged on soft tyres for their qualifying runs. Alonso briefly took top spot with a lap of 1:17.727, but he was soon ousted by Verstappen who posted a 1:17.565 to move clear in P1. Ocon then moved up the order, taking third 0.373s behind Verstappen and 0.017s ahead of Russell.
Fifth at the end of the session was Gasly, followed by the unfortunate Pérez, who locked up on his first flying lap and flat-spotted another set of tyres. The Mexican eventually made his way to seventh, but he would have another off as the session wound down in a troubled hour that left the Mexican to radio his team with the simple message: "ugh, this session."
Pérez was followed by Sainz and Hamilton, while Aston's Lance Stroll and Zhou rounded out the top 10. Zhou had a narrow escape in the session when he locked up in Turn 2 skated across the grass and clipped the wall. Luckily for the Chinese driver he escaped serious damage and was able to continue.
Nico Hülkenberg took P11 for Haas ahead of Williams' Alex Albon, while Leclerc finished in P13 after failing to get a final lap in. Local hero Oscar Piastri was 14th for McLaren, followed by the second Alfa of Valtteri Bottas and AlphaTauri's Yuki Tsunoda.
At the bottom of the timesheet, Lando Norris posted just 12 laps in the other McLaren before a technical issue forced him back to the pits.
2023 FIA Formula 1 Australian Grand Prix – Free Practice 3
1 Max Verstappen Red Bull 24 1:17.565   244.966
2 Fernando Alonso Aston Martin 26 1:17.727 0.162 0.162 244.455
3 Esteban Ocon Alpine 23 1:17.938 0.373 0.211 243.793
4 George Russell Mercedes 23 1:17.955 0.390 0.017 243.740
5 Pierre Gasly Alpine 23 1:18.094 0.529 0.139 243.306
6 Sergio Perez Red Bull 18 1:18.123 0.558 0.029 243.216
7 Carlos Sainz Ferrari 29 1:18.127 0.562 0.004 243.204
8 Lewis Hamilton Mercedes 25 1:18.138 0.573 0.011 243.169
9 Lance Stroll Aston Martin 22 1:18.198 0.633 0.060 242.983
10 Zhou Guanyu Alfa Romeo 20 1:18.330 0.765 0.132 242.573
11 Nico Hülkenberg Haas 24 1:18.410 0.845 0.080 242.326
12 Alex Albon Williams 21 1:18.553 0.988 0.143 241.885
13 Charles Leclerc Ferrari 28 1:18.691 1.126 0.138 241.460
14 Oscar Piastri McLaren 21 1:18.713 1.148 0.022 241.393
15 Valtteri Bottas Alfa Romeo 24 1:18.809 1.244 0.096 241.099
16 Yuki Tsunoda AlphaTauri 22 1:18.901 1.336 0.092 240.818
17 Logan Sargeant Williams 20 1:18.947 1.382 0.046 240.677
18 Kevin Magnussen Haas 26 1:19.056 1.491 0.109 240.346
19 Nyck de Vries AlphaTauri 23 1:19.092 1.527 0.036 240.236
20 Lando Norris McLaren 12 1:19.146 1.581 0.054 240.072
The post F1 – Verstappen Tops Final Practice In Melbourne Ahead Of Alonso And Ocon appeared first on Wheelz.me-English.